Drought warning and heat alert follows rainy June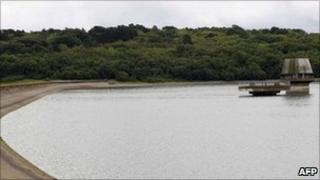 Drought conditions in eastern England are not over, despite above average rainfall across England in Wales so far in June, the Environment Agency says.
It comes as the Met Office says the East Midlands, east and south east of England could see a heatwave in coming days and temperatures of 32C (90F).
But experts say many rivers still have below normal levels and "environmental impacts" remain a concern.
The Environment Agency said more dry weather could see other areas affected.
Lincolnshire, Cambridgeshire, parts of Bedfordshire and Northamptonshire and western Norfolk remain in a state of drought and the Environment Agency is urging people to continue to use water wisely.
It added that drought conditions could spread into central England and further east if July remains dry.
Parts of the Midlands are said to be at "high risk" of drought while south west England, south east England and south Wales remain at "moderate risk".
So far in June, south west England has received 130% of the monthly average rainfall, with south east England seeing 118% and Wales 101%. Central and eastern England had 75% and 83% of monthly average rainfall in June respectively.
Heat alert
Trevor Bishop, the Environment Agency's head of water resources, said: "The wetter weather has helped to lessen impacts on the environment this week.
"However, after months of little rain, the recent unsettled weather does not mean the drought or risk of drought is over. Without further sustained rainfall, river flows will quickly drop again and our teams remain on alert."
In Wales, recent rainfall is said to have "reduced risks to the environment, agriculture and public water supply".
The Met Office predictions of hot weather has led it to warn of the dangers of high temperatures, particularly for the very old, the very young and those with chronic conditions.
Temperatures are expected to peak on Monday.
The head of health forecasting at the Met Office, Patrick Sachon, said: "There is the possibility of daytime and night-time temperatures reaching trigger thresholds.
"These temperatures, together with high humidity, pose a risk to vulnerable people, such as those with underlying health problems."
The heat alert comes after days of unsettled conditions but forecasters say Scotland and Northern Ireland will continue to experience rain over the weekend and highs of around 20C, with cooler weather expected to return to all parts of the UK by the middle of next week.
A band of rain from the west on Friday also threatens to bring a wet start to the Glastonbury festival in Somerset, although conditions are predicted to remain dry for the weekend.