Does the justice system need to do more for victims?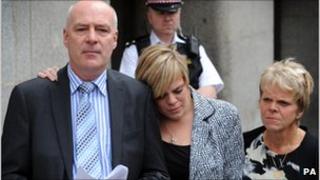 The Milly Dowler murder trial has raised concerns over how the victims of crime and their family members are treated by the criminal justice system.
Speaking after Levi Bellfield was sentenced to a whole-life tariff for the 13-year-old's murder in 2002, Milly's father admitted it had felt like he and his wife were on trial.
"Defence inferences about myself and my wife were very distressing," Bob Dowler said.
In court, Milly's father was forced to admit owning pornographic material and her mother broke down when the defence tried to paint a picture of their daughter as depressed and plagued by feelings of inadequacy.
Sally Dowler called the trial a "truly awful experience" and claimed that Milly's ordinary teenage problems had been greatly exaggerated by Bellfield's defence.
'Daunting experience'
One woman who agrees that the police and courts need to change their approach to victims and their families is Helen Stockford.
In 2009, she was attacked with a knife and repeatedly raped in her home by Mark Shirley, a man who already had a conviction for murdering another woman in similar circumstances.
The ordeal only ended when her son arrived home and caused her attacker to flee.
The 41-year-old also said that police told her not to discuss the attack with anyone - or even discuss the incident with a counsellor - until the case reached court six months later.
"I couldn't speak to my mum or husband about the attack, only CID - they wanted to keep me pure for the trial."
The process took a heavy toll on her family, she said.
"My husband was a mess and was told very little."
Ms Stockford also found the trial a daunting experience.
"They don't really prepare you for it. You see CID once a week. You don't get any advice at all... and the way they treat you in the court room - they throw so much at you."
The defence barrister asked some "horrendous, ridiculous questions," said Ms Stockford, such as whether she had made up the whole incident in conjunction with Shirley's ex-girlfriend.
However, she also admitted that the judge was fair and tried to stop the questioning from becoming too distressing.
'Fundamental rethink'
The Commissioner for Victims and Witnesses Louise Casey has also called for a change in the system and criticised the treatment of the Dowler family.
"Victims are nowhere near at the heart of the system," she told the BBC. "They're bystanders and a sideshow in criminal proceedings.
"Right across the system a fundamental rethink is needed."
Her recommendations for change will be presented to Justice Secretary Ken Clarke next month.
The commissioner has also said that while offenders have guaranteed rights, "victims make do with codes, charters and pledges, which are well-intentioned but not enforceable."
However, Ms Casey insists she does not want to abolish the courts' adversarial system and believes it is right that very difficult questions sometimes have to be asked.
'Re-victmised'
Victim Support also agrees that the Dowler case shows a need to be more sensitive when dealing with witnesses.
The charity, which works with 1.5 million people each year, told the BBC its own experience showed a need to be "better informed about cross-examination and what that entails".
"Giving evidence can be extremely traumatic and intimidating," said chief executive Javed Khan.
"There is a danger that they become re-victimised and feel as if it is them on trial rather than the accused."
Mr Khan also said information about the trial process can vary.
"Defendants are normally warned when this kind of questioning is going to come up, but sometimes witnesses and victims are not.
"This can lead to them feeling ambushed when they give evidence and this has to change."