How Habitat revamped Britain's homes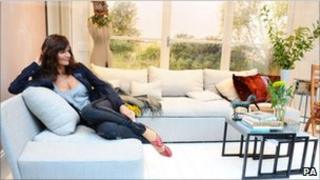 In the post-war years, three-piece suites and heavy, dark cabinets were squeezed into Britain's living rooms, and bedrooms were decked out in prim chintz.
But, a makeover was to get under way in the middle of the Swinging Sixties, when a young furniture designer called Terence Conran brought colour, smooth lines and contemporary design into Britain's homes.
Conran had been struggling to get his designs into shops so, in 1964, he opened his own store in an unfashionable stretch of Fulham Road in west London.
Habitat, with its whitewashed walls and high ceilings, brought something new to the High Street.
Products were displayed in mocked-up living rooms and kitchens, giving customers ideas how to piece together furniture, lighting, vases and mirrors.
They were affordable, contemporary designs, which educated young professionals lapped up.
In a 2009 interview for BBC Four's Designing the Decades, Sir Terence Conran said it had been more than just a furniture shop.
"It was furniture, and china and glass, and kitchen. All the things but with a certain look.
"It had a philosophy. It had abundance in it. It was like a sort of market place. It was a buzzy shop."
The buzz drew hordes of shoppers, and it was not long before Habitat became a British institution.
Design critic Stephen Bayley said during Habitat's best years - which he believes were from 1964 to 1990 - the shop was inseparable from Sir Terence's personality.
"Conran wanted to bring an element of optimism, cheerfulness to the British High Street and he succeeded in that.
"Conran found it to be true, and happy Habitat customers found it to be true, that your life can be enhanced by having a better teapot."
And not just teapots, there were salad bowls, beanbags and cheap storage jars for pasta, just as the British were developing an appetite for dried pasta.
Stores soon started opening up across Europe, in France, Spain and Germany.
In the 1980s, the company merged first with Mothercare, and then British Home Stores.
But Habitat was to fall victim to its own success.
Having persuaded British shoppers that good design was affordable for all, many shops copied the idea and priced Habitat out of the market.
Among them was Sweden's Ikea, sellers of flat-pack stylised furniture from giant out-of-town stores at a fraction of Habitat's prices.
In 1992, Habitat was bought by the Ikano Group, the company founded by the Kamprad family, owners of Ikea.
But Habitat stores struggled, and faced criticism for poor customer service and over-pricing.
In 2007-8, Habitat lost more than £13.4m. A year later, private equity group Hilco bought the debt-laden chain.
On Friday, it was announced that all but three of Habitat's UK stores are being put into administration.
The brand will survive as will the three London stores bought by Home Retail Group, owner of Argos and Homebase, for £24.5m in cash.
After 47 years of Habitat, there was understandably some sorrow for Conran.
"Of course I'm sad that my love child, Habitat, appears to be dying.
"But I am more interested in the future of my own business and design projects - that is my focus."
For Stephen Bayley, it had been an "extraordinarily interesting and very brave experiment in manipulating popular taste", and one that made it difficult to remember our homes and our lives before it.