London 2012 Olympics: Tickets for few sports available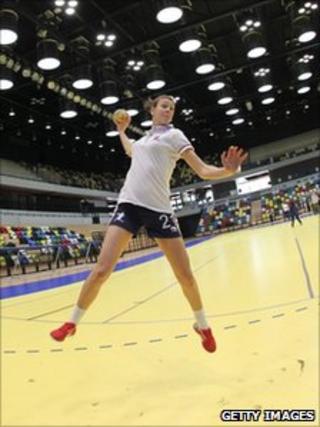 Tickets for only a few 2012 Olympic sports remain available after thousands of people who missed out in the first round reapplied when more went on sale.
Volleyball, weightlifting and football are among the sports where tickets can still be purchased, while events in the athletics stadium are unavailable.
Organisers say the website is working, despite problems due to high demand.
Some 2.3 million tickets are on sale for 10 days on a first-come, first-served basis on London 2012's website .
They went on sale at 0600 BST on Friday.
Tickets had been available for 310 sessions, 44 of which were medal events including archery, basketball, fencing, judo, synchronised swimming and table tennis.
Some visitors attempting to buy tickets on the website have received a message during their transaction which states: "We are experiencing high demand.
"You will be automatically directed to the page requested as soon as it becomes available. Thank you for your patience."
A London 2012 spokeswoman said: "The system is working, it has not crashed. Due to high demand some people are being held outside the system.
"For those in the system it is working and transactions are going through, but we are having to hold some people back from going through the site due to high demand."
The system started to slow down just 10 minutes after tickets went on sale.
The BBC's James Pearce, writing on Twitter, said organisers had likened the situation to "a Tube station" experiencing so much traffic that "some trains are being held back before the station".
Ticket frustration
Jacqueline Burke was among those who had problems with the website, although her application was eventually submitted successfully.
She told the BBC: "We thought were were doing really well at six o'clock because we were able to pick the three events we wanted. But unfortunately, having pressed 'submit to pay', it's come back as 'Sorry, we are unable to process your application'."
Sally Stephens, from Plymouth, attempted to buy tickets as soon as they went on sale but experienced problems accessing the site.
"It's been very frustrating. It seems like the tickets that have been sold so far have not been distributed widely enough," she said.
But others have had positive experiences using the website.
Michelle, from London, told the BBC she had "a great experience buying tickets" and another user, called Tracey, said she "got through after much patience".
Large demand
Some half a million tickets are priced at £20 or less.
A further one million tickets are priced between £20 and £50.
Applicants will find out whether they have been successful within 24 to 48 hours of applying. Payment will be taken once the sale closes at 1800 BST on 3 July.
Tickets had been available in 20 sports - about 1.7 million for football and 600,000 for other sports, including archery and hockey.
Athletics, beach volleyball, hockey, handball and basketball are among the sports which are already listed as being unavailable.
Tickets were still available for football, judo, boxing and volleyball, among other sports - a full list of available events can be seen on the website.
People are able to apply for up to three sessions, and six tickets per session, for most sports.
Fewer than half of those who applied got tickets in the first round as demand outstripped supply in many events - massively in some cases, such as the men's 100m athletics final where more than one million tickets were requested.
BBC sports correspondent Gordon Farquhar says Games organisers recognise many people were bitterly disappointed to miss out.
They have pledged to try to get tickets into the hands of two-thirds of those who originally applied.
Those who were successful in the first ballot, held from May to June, will get their own second chance to buy from 0600 BST on 8 July to 1800 BST on 17 July.
Those tickets will be ones left over after the second round of sales.
The London Organising Committee of the Olympic Games (Locog) has also said its predictions indicate more than one million tickets will become available between December 2011 and the start of the Games.
Paralympics opening ceremony
These will come through returns, and as the final seating plans for the venues are finalised.
Organisers expect the 2.3 million tickets going on sale in the second round will put them on track to reach £400m of the £500m target of revenue from ticket sales.
Twenty-one events sold out in the first round of sales, with the opening and closing ceremonies, diving, swimming and tennis being popular.
And, in a separate development, it emerged that the opening ceremony for the London 2012 Paralympics will be created by artistic directors Jenny Sealey and Bradley Hemmings.
London 2012 chairman Lord Coe said the pair were "the perfect team" for the job.