Woman, 39, arrested over NoW phone-hacking claims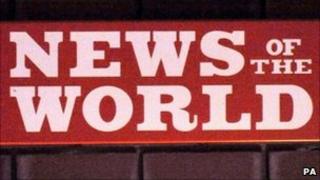 Police investigating claims of phone hacking at the News of the World have arrested a woman in West Yorkshire.
The woman, 39, is understood to be Terenia Taras, the partner or former partner of Greg Miskiw, who worked in senior roles for the paper until 2005. She was later bailed until October.
The arrest was made as part of Operation Weeting, launched by the Met Police in January.
Inquiries focus on the interception of mobile and voicemail messages.
Mr Miskiw was a former head of news, assistant editor and head of the News of the World's Manchester Office.
The paper's former royal reporter Clive Goodman and private detective Glenn Mulcaire were jailed for intercepting messages from the Royal Family.
Newspaper 'co-operating fully'
Police reopened their inquiry into the hacking claims after allegations that other public figures - including MPs - had their messages intercepted.
Since then, three News of the World journalists have been arrested but none have been charged with any offence.
News International, which owns the newspaper, issued a statement saying Thursday's arrest did not relate to a current employee or a former full-time staff member.
"We have been co-operating fully with the police inquiry since our voluntary disclosure of evidence reopened the police investigation," the statement said.
"Since then we have been determined to deal with these issues both on the criminal and civil side. In April we admitted liability in several civil cases and we are attempting to bring these to a fair resolution."