Military gallantry medals awarded for Afghan heroism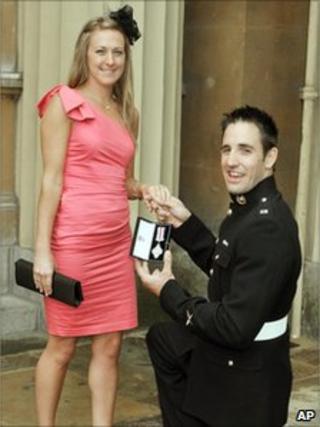 Five military personnel have received gallantry awards from Prince Charles for heroism in Afghanistan.
Marine Mark Jackson, from Newbury, was awarded the Conspicuous Gallantry Cross after he threw back an enemy grenade and lay on a comrade to protect him.
He proposed to his girlfriend at Buckingham Palace after the ceremony.
L/Cpl Ryan Shelley, from Solihull, was awarded the George Medal for rescuing a helicopter crew after they crashed in enemy territory.
He climbed into the burning wreckage of a US helicopter in Afghanistan last year and performed emergency throat surgery on the fatally-injured pilot.
He repeatedly returned to the blazing helicopter to try to rescue the crew.
"It's been very emotional but the big thing is that it wasn't just me there. This is for every one of the lads," he said.
Marine Jackson's marriage proposal - on one knee in the palace's grand ballroom - was accepted by Rebecca Daniel.
Princely congratulations
He told Prince Charles of his plans as his medal was pinned on him.
"I told him I was going to propose and he said 'Many congratulations in advance'," Marine Jackson said.
The incident he was honoured for happened when he was on look-out duty in Helmand province in August last year.
His medal citation described how his "only thought was for the life of his comrade who, had he hesitated for one moment, would have been killed."
Recalling the way he dealt with the grenade, he added: "I just thought that's going to hurt and ran over and launched it back."
Three other service personnel received the Military Cross for bravery during active operations.
L/Cpl Kylie Watson, from Ballymena, received it for twice putting her life at risk under heavy fire to treat Afghan soldiers.
In one incident she gave a soldier medical care in exposed open ground for 20 minutes and helped to evacuate him.
'Absolute bravery'
On another occasion, she dashed 100ft under sustained accurate fire to administer life-saving first aid to an Afghan soldier who was shot twice in the pelvis.
Her citation spoke of her "immense courage, willingness to put her own life at risk and absolute bravery".
Captain Jack Anrude, from Purley, also received the Military Cross. He had helped injured colleagues to safety after an ambush despite having been shot himself.
Corporal James Bedford, from Littlehampton, West Sussex, was awarded the medal for saving colleagues in full sight of the Taliban.
Cpl Isobel Henderson, from Dalbeattie, was awarded the MBE for her efforts in dealing with an unprecedented number of casualties whilst serving as the only medic at a checkpoint in Helmand .
Among other recipients of awards on Wednesday was actor David Suchet - known for his portrayal of Belgian detective Hercule Poirot - who collected a CBE.