Coastguard plan raises 'serious safety concerns'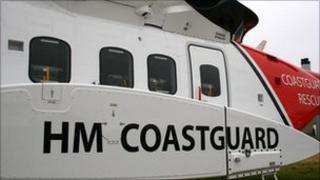 Plans to close some UK coastguard centres raise "serious safety concerns", a report by MPs has warned.
The Commons transport committee said the proposals lacked support and would lead to a loss of local knowledge.
The government had wanted to cut the number of 24-hour coastguard centres from 18 to three but has since acknowledged its plans will be amended.
Maritime and Coastguard Agency head Sir Alan Massey said change was needed but safety concerns must be addressed.
"The risks were identified as being 'you're going to lose local knowledge and that'll put lives at risk, that you'll lose some of your experienced personnel and that will dilute the expertise that's around'," he said.
"What we need to do now is come forward with proposals that take account of what people have said."
Proposed structure
Under the plans the coastguard service would have two nationally networked maritime operations centres, in Aberdeen and the Portsmouth-Southampton area.
There would be five sub-centres, operating in daylight hours only, in Falmouth, Humber and Swansea. Two more sub-centres - in Belfast or Liverpool, and Stornoway or Shetland - would be retained.
In addition, there would be one sub-centre operating 24 hours a day in Dover, and the small centre at London would remain unchanged.
In May, Transport Secretary Philip Hammond said he was re-examining the plans, and would consider keeping nine, rather than three, coastguard stations open.
The original consultation was extended so that the committee could have more time to complete its assessment of the proposals.
Committee chairman Louise Ellman said there was little support for the proposals and the committee had no confidence that they would allow the coastguard service to perform as well as or more effectively than it does now.
She said any future reorganisation of the service should be based on 24-hour centres, rather than stations which open only during daylight hours.
"We accept there is a need for some modernisation, but the government's proposals for the future of the coastguard service are seriously flawed."
Mrs Ellman also expressed disappointment that shipping minister Mike Penning had "instructed regular coastguards not to give evidence to the committee".
Emergency tugs
In its report, the committee says the decision to withdraw funding for emergency towing vessels - large tugs which intercept disabled ships to prevent pollution - is "unwise and short-sighted", and is "inviting disaster".
The emergency tugs were introduced after the Sea Empress tanker disaster off Pembrokeshire, which spilled 73,000 tonnes of crude oil over 120 miles of coastline in 1996, and the Braer tanker disaster off the coast of Shetland in 1993.
Steve Todd, National Maritime Secretary of the RMT transport union, said it would be "reckless" of the government to get rid of the emergency tugs and fire rescue cover provided by the Maritime Incident Report Group.
"The committee quite rightly exposes the dangers to the UK coastline posed by the very damaging cutbacks and closures to coastguard centres," Mr Todd said.
'Urgent' modernisation
Commenting on the committee's report, Mr Hammond said: "I welcome the committee's recognition that the coastguard service is in urgent need of modernisation.
"The original proposals do not compromise safety and include increased resources for front-line rescue services.
"Reform will improve resilience in the system through improvements to IT and create better career opportunities for staff, as well as better pay and conditions."
Labour urged the government to shelve the plans.
Shadow transport secretary Maria Eagle said: "The Tory-led government should finally listen to coastguards up and down the country and abandon their dangerous and reckless plan to close more than half of Britain's coastguard stations.
"The cross-party transport select committee is clear that these plans will jeopardise safety along Britain's coastline and ministers must now think again."
The government's final proposals are due to be published later this summer.