William and Catherine to have 'fun' in Canada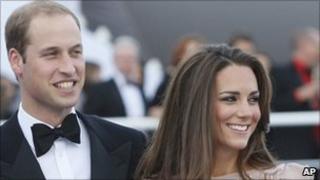 The Duke and Duchess of Cambridge's first official overseas tour - to Canada - will be "fun", and include cooking and boat racing, officials say.
William and Catherine, in Canada from 30 June to 8 July, will participate in events to a greater extent than Prince Charles or the Queen do on tour.
Among their activities will be steering a dragon boat in a lake race with team-mates while on Prince Edward Island.
"Meaningful engagements" are also included in the trip, officials say.
It will be Catherine's first trip to North America, while William last visited Canada at the age of 15 in 1998 with his father, Charles, and brother, Prince Harry.
Lobster and crisps
The duke and duchess's private secretary, Jamie Lowther-Pinkerton, said: "The royal couple are delighted that Canada will be their first tour together and the Canadians have put together an extremely welcoming and well-balanced programme of meaningful engagements, mixed with fun and lots of opportunities to get to know Canada and Canadians better."
The couple will be served local delicacies, including chocolate-covered potato crisps and lobster, while on Prince Edward Island on 3 and 4 July.
William, an RAF search and rescue helicopter pilot, will join his Canadian counterparts for a demonstration of how to land a Sea King on water.
While in Quebec City on 3 July, he and his wife will take part in a cooking workshop with students from the prestigious Institut de Tourisme et d'hotellerie du Quebec.
Walkabouts will also be held during the nine-day visit, when organisers hope thousands of people will turn out to see the couple.
Mr Lowther-Pinkerton said: "There is a focus on servicemen and women and their families, young people unlocking their potential, but for the most part their tour will be a celebration of the diversity and vibrancy of Canada's people and geography."
The day after they arrive is Canada Day, when the couple will join hundreds of thousands of people in Ottawa dressed in the national colours of red and white.
Cowboy hats
The trip to Yellowknife in the Northwest Territories from 4 July to 6 July will begin with a welcome by First Nations peoples, involving a prayer drum song and a game of shinny, or street hockey.
Calgary, where they will be from 6 to 8 July, will see the annual Calgary Stampede, which involves a rodeo, exhibition and festival.
The couple will be presented with 10-gallon cowboy hats when they first arrive in the city and the duke will throw a "stove" into a "chuck wagon", the traditional way to start one of the stampede's races.
After Canada, the couple visit California for three days, where they will attend a Bafta black-tie reception in Los Angeles.