London 2012: Olympic ticket holders find out events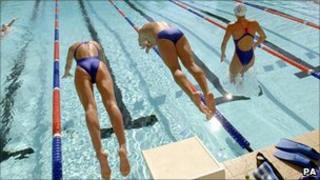 Successful applicants for London 2012 Olympics tickets have begun finding out which events they will be attending.
Money for the tickets was taken from accounts between 10 May and 10 June, but people were not told which events they had received tickets for.
However, people have now started receiving e-mails from London 2012 with details of which sports they will be attending.
About 700,000 applicants got tickets, but 1.2 million missed out.
The average successful buyer would have got about four tickets for about £275, organisers say.
David McCormack, from Paisley, was one of the lucky successful applicants to find out he had secured two tickets to the men's 100m final, an event which received a million ticket requests - effectively 62 applications for every ticket sold.
"We applied for £850 of tickets and got £250 of them. Been waiting an age to find out which ones they are. Got my e-mail from London 2012 today," he told the BBC.
"I am a club-level athlete and have wanted to go to this session since London won the bid, so I am totally excited."
Dave Middleton, 55, from Aberdeen, also received tickets to the men's 100m final.
"I only wanted to see Usain Bolt in the 100m final so that's all I applied for.
"I have two (grown-up) sons and only one of them can go. I've told them we'll have to toss a coin to decide," he said.
Jon Gurr, 35, said he was very happy that he managed to get a pair of £20.12 tickets to the closing ceremony.
"I feel extremely lucky given that so many people got nothing, but am now looking forward to being a part of a once in a lifetime event," he said.
Second round
Twitter was also awash with tales of ticket success.
Mari Williams, who describes herself as a food stylist and recipe writer, tweeted: "Just found out we've got Beach Volleyball tickets - ladies session!!! Steve my partners thinks it's Christmas!!!!"
BBC Radio 5 Live's Richard Bacon tweeted: "So I got 2 for diving and 4 for The Closing Ceremony (great). Although I thought I'd have more than 6 tickets to show for 3 grand".
People will be told by 24 June which tickets they have been allocated.
Meanwhile, the British Olympic Association has denied that its decision to allow Scottish, Welsh and Northern Irish players to play for a united Great Britain football team at London 2012 is a ploy to try to shift more than a million unsold tickets.
There will be a second round of ticket sales starting at 0600 BST on Friday for those who were unsuccessful in the initial ballot.
Some 2.3 million tickets will be on sale on a first come, first served basis, of which 1.7 million tickets are for football matches and 600,000 for other sports, including archery and hockey.
BOA chief executive and Team GB's Andy Hunt said there was was "absolutely no connection whatsoever between the timing of the announcement (of Team GB) and (the new batch of tickets)."
Scotland, Wales and Northern Ireland have said they did not support Team GB although they cannot legally stop their players from participating.
Tickets are still available for 310 sessions, 44 of which are medal events including archery, basketball, fencing, judo, synchronised swimming and table tennis.
Some half a million tickets will be priced at £20 or less, with a further one million priced between £20 and £50.
Applicants will find out whether they have been successful within 24 to 48 hours of applying. Payment will be taken once the sale closes at 1800 BST on 3 July.
Those who were successful in the first ballot will then get another chance to buy from 0600 BST on 8 July to 1800 BST on 17 July.
People will be able to apply for up to three sessions, and six tickets per session, for most sports - although football, volleyball and race walking will have larger limits.
The London Organising Committee of the Olympic Games has also said its predictions indicate more than a million tickets will become available between December 2011 and the start of the games.
These will come through returns, and as the final seating plans for the venues are finalised.
Organisers expect the 2.3 million tickets going on sale in the second round will put them on track to reach £400m of its £500m target of revenue from ticket sales.