Legal aid changes being pursued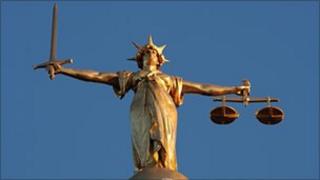 The government is pressing ahead with plans to cut £290m from the more than £2bn annual legal aid bill, despite lawyers' and campaigners' opposition.
Ministers say legal aid will end for most family cases, clinical negligence and employment law in England and Wales, but remain for criminal cases.
Currently anyone with disposable assets of less than £8,000 can qualify for aid but that could be lowered to £1,000.
Critics say the package of measures will be a disaster for the public.
Under the plans, some 600,000 cases of legal aid in England and Wales will no longer be funded if the full package goes through Parliament.
Legal aid will no longer be available in the following areas of civil law:
Private family law, such as divorce and custody battles
Clinical negligence claims
Employment and education law
Immigration, other than where someone is detained
Some debt, housing and benefit issues
The government says that domestic violence cases will still receive legal aid and it intends to expand the definition to include mental and sexual abuse.
Justic Secretary Ken Clarke told MPs on Tuesday: "Our current system of legal aid too often encourages people to bring their problems before the courts, even when they are not the right place to provide good solutions and sometimes for litigation that people paying out of their own pocket would not have pursued.
"Legal aid has expanded into areas far beyond its original scope. It is now among the most expensive systems in the world. In the current fiscal climate, this is simply unsustainable."
But Linda Lee, president of the Law Society, said the proposals would be a "disaster for the public" because they would prevent people turning to the justice system.
"The government has failed to consider alternatives which would make bigger savings without removing civil legal aid from some of the most vulnerable people in society," she said.
And Stephen Cobb QC, chairman of the Family Law Bar Association, said: "The threats posed by the government's proposals are real and potentially brutal."
No-win no-fee
The legislation also includes measures already announced to change the system of no-win no-fee cases.
The changes will mean that anyone suing, such as in a clinical negligence case, will have to find a solicitor to take their case on a no-win no-fee basis.
If they win, their solicitor will be entitled to charge a success fee of up to 25% of the damages. At present, that success fee is recoverable from the losing defendant.
The government received more than 5,000 submissions to its consultation on cutting legal aid - many of them from charities and legal groups.
Gillian Guy, of Citizen's Advice, predicted that those in greatest need would suffer.
"Civil legal aid keeps people in their homes, in their jobs and out of debt. These cuts will leave hundreds of thousands with nowhere to turn for help. Serious cases of family breakdown, unfair dismissal and refusal of benefits will simply get worse.
"At a time of economic uncertainty and big changes in work, welfare and public services, people need advice more than ever. The government has to make sure advice is there for those most in need of help.
"There cannot be justice for all without a workable civil legal aid system."