UK security guards 'shot dead by Iraq captors'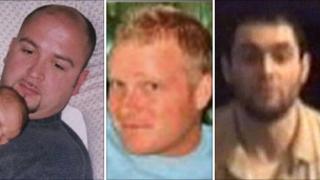 Three British security guards were shot dead by their captors in Iraq about a year after being seized by an armed gang in May 2007, an inquest has heard.
A coroner ruled Alec MacLachlan, 30, of Carmarthenshire, Jason Swindlehurst, 38, of Lancs, and Jason Creswell, 39, of Glasgow, were unlawfully killed.
They had been in Baghdad protecting IT consultant Peter Moore, of Lincoln, who was also captured but later released.
Fellow guard Alan McMenemy was abducted too and is now believed to be dead.
The inquest in Trowbridge, Wiltshire, heard that on 29 May 2007, the four security guards, armed with automatic rifles and pistols, collected Mr Moore and another IT consultant, Peter Donkin, from their accommodation in Baghdad's green zone.
They were escorted to the ministry of finance where the pair were installing a new IT system.
But that morning between 50 and 100 armed men dressed in police and military uniforms entered the building and took the four guards and Mr Moore hostage, the coroner's court heard.
Det Ch Insp Mark Moles, who led the investigation into their deaths, said the militia pulled their weapons on the guards only at the "last second".
"It gave them no chance to challenge them and sadly they were very quickly overpowered," he said.
"Even as highly trained, ex-military close-protection officers, they could have taken no action to prevent their kidnap."
Chained and blindfolded
He told the court how the five men were then stripped to their underwear as they were being driven away.
Some militia returned to the ministry looking for Mr Donkin, but staff had hidden him in a compartment under the floor until it was safe to come out.
Mr Moles said that after Mr Moore's release in 2009, he had given a detailed description of what had happened during the men's captivity.
He told the court that Mr Moore had said all five had been subjected to mock executions and had been chained and blindfolded for long periods.
They slept on the floor and were given food and water and allowed to shower regularly, and occasionally watched television, he said.
On several occasions they were filmed holding up a current newspaper for "proof of life" videos, he added.
In the statement read out by Mr Moles, Mr Moore went on to describe the mock executions, saying the hostage would be "forced on to his knees, have a firearm pushed into the back of his head, the firearm being racked and immediately a second firearm is discharged into the room".
"It was absolutely terrifying," he said.
'Execution'
The inquest heard all three security guard's bodies were taken to police stations in Baghdad in 2009.
The bodies of Mr Swindlehurst and Mr MacLachlan were returned with their wrists and ankles tied. Mr Creswell's body showed signs of having been bound previously.
Mr Swindlehurst had been shot in a "classic execution" style, twice in the head at close range and once in the chest with an AK-type semi-automatic weapon and a pistol, Mr Moles told the court.
Mr Creswell had been shot three times in the chest and abdomen with a 9mm gun.
Mr Moles said he believed Mr Creswell had been kneeling on the ground with his arms in the air when he was also killed in an "execution" style.
Mr MacLachlan died after being shot in the head, probably with an AK rifle, the court heard.
David Ridley, coroner for Wiltshire and Swindon, said the type of injuries and the fact two of them were returned bound showed they had been killed while restrained.
Tests showed Mr MacLachlan and Mr Creswell died sometime between February and May 2008. Mr Swindlehurst died between February and June 2008. "Proof of life" videos of all three from October 2007 were found.
Mr Moore last saw them alive in July 2007.
In June 2009, the bodies of Mr Swindlehurst, from Skelmersdale, and Mr Creswell were flown back to the UK by the RAF. The body of Mr MacLachlan, from Llanelli, was flown back three months later.
A Foreign Office spokesman said it believed 34-year-old Mr McMenemy, from Glasgow, had been killed and efforts were continuing to try to establish his fate.
At the inquest, Mr Moles appealed to the captors in Iraq to return Mr McMenemy's body to the authorities.
After the verdict, the families of the three men said in a statement they had waited "many, many months" for this inquest.
"We are united in our support for each other and have drawn huge strength from this throughout this most tragic period of our lives.
"Sadly this inquest is not the end for the McMenemy family and as a family group we hope and pray for the return of Alan to his family as soon as possible."