It's June, that means queues outside Wimbledon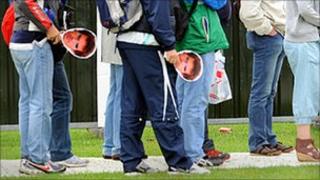 It has been compared to a festival site and a scout camp. The truth is the Wimbledon Tennis Championships queue is probably somewhere in between.
Hundreds of sports fans seeking the Holy Grail in tennis, a Centre Court ticket, have given up the comfort of their own beds to spend the night in Wimbledon Park.
At any other time of the year, this green across the road from the All England Club is prime dog-walking land.
But for one fortnight, two-man tents - anything bigger is banned - are erected in row upon row.
Burger vans and Portaloos give it a festival feel, but the 6am wake-up call from polite, but strict, stewards in straw boaters, is a reminder, for some, of their scouting days.
But by 6am - at least seven hours before they can expect to see any tennis - most campers have already been up for an hour.
Tents are dismantled and packed away, while these super-queuers form new, equally orderly queues for bacon butties and cups of tea.
Once breakfast is over, the slow shuffle begins, up and down the rows in the park, into another queue which winds through another park.
Finally they reach the ticket office where the first 500 are offered a Centre Court ticket - the only other way to get one is in an oversubscribed ballot.
At the very front of the ticket queue is Fred Human, from Port Elizabeth, in South Africa, who arrived in the park with his wife, Susan, and family on Saturday.
With toothbrush in hand, he says this is his first time at Wimbledon and, after a good night's sleep, he is looking forward to the new experience.
David Jacobs, 64, an accountant from Feltham, west London, knows just what to expect after 35 years' experience of the queue.
He became hooked on the tournament after watching Bjorn Borg play in 1977, and has returned every year since, seeing all the greats of the game.
The queueing set-up was not always as comfortable.
For years, David and his fellow fans queued overnight on the roadside, trying to get some sleep amid the fumes and noise under plastic sheeting tied to railings. But none of that deterred him.
"It's a magic place - there's nothing like it - all the tradition, all the history. It's a tennis tournament in an English country garden," he says, as a light drizzle starts to fall.
"I'll keep coming forever, or until I disappear," he adds.
His fervour is not unique.
Queue veterans Sue Callaghan, 58, and Pam Goodwin, 61, have notched up 37 and 36 years respectively, and wear their long service like a badge of honour. Both are dressed from head to toe in red, white and blue and stand out from the anorak-clad crowds.
Sue, in a knitted union jack cardigan and felt hat, considers the art of queuing as she swigs a pint of milk.
"You have a chat, a little drink, play some cards, then have a little nap," she says.
And the art of camping?
"I take a lilo, pillow and quilt. I like it comfortable - it's my little house for two weeks."
For Pam, a carer from Portsmouth, the appeal is the "craic".
"You can see more on the telly, but it's not the same. This is fantastic," she says.
"Everybody looks after each other. They know us. There's a little community who come every year," she adds.
Pam and Sue, who spend around £1,400 each over the Wimbledon fortnight, only became friends in the queue.
But they do have one moan - the public can no longer queue for Centre Court tickets on the last four days, meaning the faithful miss the semi-finals and the finals.
Sue says this could jeopardise Andy Murray's chances of being the first Briton to win the men's singles since Fred Perry in 1936.
The support of her and her fellow super-queuers might be the boost he would need to get to the final, she says.
But she is still convinced the British number one can win. "You always believe," she says.
Ralph Clark, 28, and his friends think otherwise.
Can Murray win? In unison, they answer: "No".
"He'll make it to the semi-final. But it will be another Henman job," predicts Ralph, referring to Tim Henman, Britain's almost-man who reached the semi-finals several times but never got beyond them.
The first 500 campers, who queued all day and all night, are happy they will be there to see Andy Murray step out onto Centre Court to begin his bid to end the 75-year search for a British men's singles champion.