G20 death Pc sent for trial at Old Bailey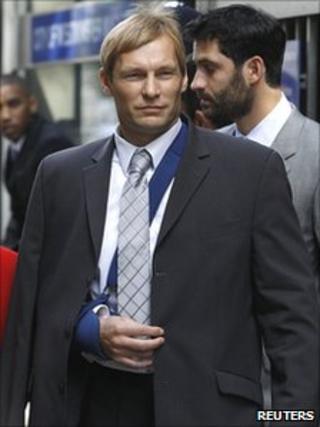 A police officer accused of killing newspaper seller Ian Tomlinson during the G20 protests in London in 2009 is to stand trial at the Old Bailey.
Scotland Yard Pc Simon Harwood appeared at City of Westminster Magistrates' Court charged with manslaughter. He was bailed until 17 October.
An inquest jury previously found Mr Tomlinson had been unlawfully killed.
The 47-year-old collapsed and died after being hit by a baton and pushed to the ground on 1 April 2009.
Mr Tomlinson's widow, Julia, was in the public gallery of the court for the two-minute hearing on Monday.
Pc Harwood, 44, of Carshalton, south London, spoke only to confirm his name, age and address. Wearing a black suit and grey tie, he had his right arm in a sling.
Director of Public Prosecutions Keir Starmer decided to charge Pc Harwood after the conclusion of the inquest into Mr Tomlinson's death.
The Crown Prosecution Service had previously decided against bringing a prosecution.
But, following the inquest, Mr Starmer said: "The difficulties that would now confront any prosecution have changed in nature and scale from last year when a decision was taken not to prosecute, although it is clear that real difficulties remain."