Home care: 'My mother has been failed'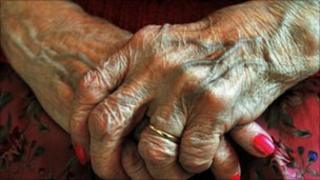 The human rights of older people receiving care at home are being overlooked, an inquiry by the Equality and Human Rights Commission says.
The inquiry is investigating how well over-65s who receive homecare visits are looked after in England.
The commission says it has uncovered worrying cases of neglect and examples of lack of respect for older people's privacy and dignity.
BBC News website readers have been getting in touch with their experiences.
Janet Duckmanton, Bedfordshire
My 85 year old father is about to be "evicted" from hospital back to his bungalow where he lives alone. This is his second admission to hospital in the past few months - he collapsed with malnutrition, dehydration and had a urine infection.
He has now been diagnosed with dementia as well as other psychiatric problems. His first discharge only lasted two weeks and the homecare package he received was nothing short of appalling.
He was supposed to have a carer three times a day but mostly it was only twice. Carers were arriving up to four hours late or not at all. Many of them had no idea of how to care for his catheter, hence the urine infection.
No one checked if he was eating or drinking properly and consequently he lost over two stone in weight and became seriously dehydrated.
Admittance to a care facility has been refused because of a shortage of funding and it is deemed by the social care manager, who has never even met my father that he does not meet the criteria for residential care; despite the fact that on our last visit to his home my sister and I found him dismantling his gas cooker!
The hospital is trying to discharge him tomorrow but we explained the situation we found him in yesterday when we went to visit him on the ward so this has been stalled. He was confused, he couldn't shave and couldn't put his slippers on.
I am disabled and on a disability pension so I cannot look after him.
After six weeks of this abysmal neglect, if he does not end up back in hospital or worse, he will be means tested and expected to pay a minimum of £16.88 per hour for the privilege of being told that he has to go to bed at six o'clock because the carer cannot come any later as she is too busy.
My father's social worker has just contacted me to say that she has just been to visit my father on the ward and he is threatening to take his own life if he is sent home because he is so frightened to be left in the hands of strangers, who have neither the time or the patience to give him the care he deserves.
Julie Turner, Oldham
My mum who has recently died, had carers. She was getting male carers coming in to strip wash her. A female was present (so that meant two people attending) but the male washed her. We requested this to be changed as mum was not happy. Their response to this request was 'it's that or nothing' - although they did rearrange it eventually.
I don't think my mum ever had her hair washed until I visited. Also because of the cuts there was only 30 minutes to get mum washed and dressed and give her breakfast which meant she had toast and porridge together (confusing her over what to eat first).
The actual carers who visited were OK. When she first came out of hospital, she had carers administered by the hospital for six weeks then the care was transferred to social services. I wasn't happy with the service and mum wasn't either.
She had to get used to people coming in to her home to do things for her and she had to change her routine, which she did.
One night they tried to put her to bed at 7.30pm and she refused as this was too early. The attitude of the carers was to rush, as they had to get to the next client. It wasn't their fault. Mum had so many different people coming in to care for her, she was fed up towards the end. Her funeral is on Friday.
Louisa, East Sussex, former care worker
I started working as a care worker in March and left last week, as I found it too upsetting.
The visits are too short, one of the clients I visited regularly had to use the commode instead of going to the toilet as we did not have time to help her down the steps to her toilet, which she found very distressing.
We were never given enough travelling time between clients meaning we were running late constantly, which made clients nervous that people weren't coming and made us stressed before we even arrived with a client. We were expected to do 14 miles travelling in 15 minutes and I was always running late. It was at times very distressing.
I have seen other carers ignore clients, ignore what they want to eat, refuse to speak to them during the visit and physically injure someone because they were rushing. I've also seen other carers upset and degrade people in their homes and ignore basic care, with people being left in wet or soiled incontinence pads.
I was truly shocked by what I saw. Reporting things to the office and my team leader seemed to have little or no effect. I left because I don't think it is fair to treat people like children or animals and I didn't want to work in that environment if I could not do anything to change it.
There was one client, who was paralysed from the chest down, that got injured by one of her carers during a visit as they were in a rush to complete their tasks. The lady was continually sent the same carer even after she had requested that this particular person did not visit.
Carol Rourke, Manchester
My father is 88 and suffered a stroke which left him unable to walk or bear weight by himself.
He can only be moved using a stand hoist and we were told that he could come home, as a care package was available where my father would get four visits a day with double cover because two carers were required to use the hoist.
We were delighted that this kind of help was in place and that my father could return back to his home.
However, it soon became evident that there were serious shortcomings with the way the council deal with people's care needs.
There were numerous times when carers failed to turn up to attend to my father. Other times, carers would just rush visits staying only twenty minutes when one hour was allocated.
On one occasion, my father was put to bed at 7pm and did not receive a visit until 6pm the next day despite me making numerous phone calls to the agency.
It was only when I sent my complaints to the Local Government Ombudsman that I felt someone was taking these matters with the seriousness it deserves.
What chance would elderly people have making complaints when nothing gets done anyway?
Karla Barnfather, Sutton
My mum is 86 and has mental health problems. She was being visited by the local home treatment team once a day to monitor whether she was taking her tablets. But we feel that the care she receives in her home is inadequate.
She keeps getting sent home by the hospital and each time it is without the proper support. She trashed her bungalow a few days ago and is now back in hospital. When we went round to check on her house, we could not believe the state it was in. The place is a health hazard. I am so upset that my mum has got to this stage. My mother has been failed.
There was milk all over the floor and there were incontinence pads in the washing up bowl. Her place looked like a war had hit it. It was uninhabitable with clothes, rotting food and bedding strewn all over the place.
She has no social worker. The head of the home treatment team seemed unconcerned at the state of her bungalow and said that what she does in her own time is her own concern.
The home treatment team give her a nurse for an hour a day - that's all they do. My mother simply cannot look after herself. Her home is completely filthy.
We are at the end of our tether and don't know where else to turn. My husband and I are not well, and there is only so much we can do. I have a broken spine and my husband is recovering from cancer and this situation is adding to the stress.
All we want is for her to receive the proper care. I am scared that she is going to be found dead in her home. She cannot look after herself any more.