Eight people injured by horse and carriage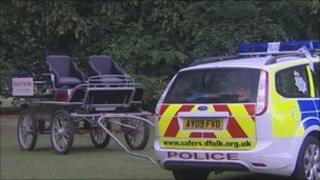 At least eight people have been injured, including one seriously, after a horse and carriage got loose at a country fair in Bury St Edmunds, Suffolk.
Suffolk Police said it appeared that several people had been run over in the town's Nowton Park, with one woman in a critical condition.
The police said that up to 10 other people may have been injured, many with back or abdominal injuries.
They are now appealing for witnesses.
The police said that the critically injured woman was believed to be in her 40s.
They added that she "is believed to have sustained life threatening injuries", and had been taken to Addenbrooke's Hospital in Cambridge.
'Grabbed children'
Seven other injured people had been taken to West Suffolk Hospital in Bury St Edmunds.
The police added that about 10 more people who were injured may have made their own way to hospital.
They said they were contacted by the ambulance service just before 1630 BST.
Jon Kydd, who was in the park, said a woman screamed "look out" as a horse and carriage with no driver bolted towards him.
He said he quickly grabbed his children, who had been playing in its path.
"Had we not moved them out of the way, they would have been hit," he added.
'Rag doll'
"We screamed as loud as we could for people to get out the way but one lady tried to move, but was too late.
"She looked like a rag doll - the horse, then the cart hit her at full speed. It was horrendous."
Hannah Vesty was with her two children, including a three-month-old son.
"We heard someone shout 'get out of the way' and as we turned to look the horse charged right past us, trampling a greyhound dog.
"Incredibly, the dog got up after getting stuck under the wheel.
"It was shocking, everyone was stunned. We feel very lucky to have not been harmed."
Anyone who saw what happened is asked to call Suffolk Police.
The Health and Safety Executive has been informed.