David Cameron criticised after attacking 'runaway dads'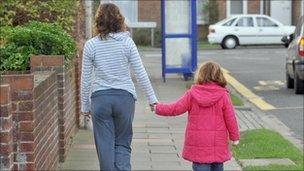 David Cameron has been accused of "ripping away" support from single parents, just hours after making a stinging attack on absent fathers.
The prime minister said "runaway dads" should be "stigmatised" in the same way as drink-drivers.
But charity Gingerbread said government proposals to charge those needing state help to obtain child maintenance would make life harder for lone parents.
Ministers said they wanted to encourage parents to settle their own affairs.
Writing in the Sunday Telegraph to mark Father's Day, the prime minister said fathers who failed to "financially and emotionally" support their children must face consequences.
"It's high time runaway dads were stigmatised and the full force of shame was heaped upon them," he said.
"They should be looked at like drink-drivers, people who are beyond the pale.
"They need the message rammed home to them, from every part of our culture, that what they're doing is wrong; that leaving single mothers, who do a heroic job against all odds, to fend for themselves simply isn't acceptable."
But Fiona Weir, from Gingerbread - which campaigns on behalf of single parents - criticised the prime minister.
"David Cameron is right that single mums - and indeed single dads - do a heroic job, but those same parents are about to have government support ripped away from them if they need help securing child maintenance payments from their child's other parent," she said.
"If the prime minister really wants to support heroic single parents, he must withdraw these damaging proposals which would limit access to the CSA [Child Support Agency]."
Since 2008 - when the much-maligned CSA was effectively axed - the Child Maintenance and Enforcement Commission (CMEC) has collected money from non-resident parents.
But earlier this year, the government said it wanted to encourage separating couples to organise their own payments and was proposing to charge those who did not for accessing the services of the CMEC.
They would be required to pay an upfront fee of £100 (or £50 if they claim benefits), plus an ongoing charge of between 7% and 12% of the money paid.
For Labour, shadow home secretary Yvette Cooper said Mr Cameron's words were "hollow".
"His government is making it much easier for deadbeat dads to run from their responsibilities by charging mums to use the Child Support Agency," she said.
Mr Cameron also said he was determined to introduce tax breaks for married couples - despite Liberal Democrat opposition to the idea.
But Ms Cooper said such a policy would "reward runaway dads who remarry".
Erin Pizzey, the founder of the first UK's women's refuge, said Mr Cameron was displaying a lack of understanding about the reality of family break-ups.
"There are a lot of reasons why [fathers are] not with their children... not least that women won't let them," she said.
Ms Pizzey said it was wrong to single out men, adding: "There is a vast mass of women who are equally as feckless as the men and we never talk about them."
Bob Greig, from the single parenting website Only Dads, agreed that the prime minister's argument was "too simplistic".
"There are many cultural, employment, financial, [and] legal issues as well which prevent dads from having a full-on relationship with their children post-separation and divorce," he told the BBC.
"Why that isn't recognised in his article in the Telegraph I just don't know."
The Camerons have three children, Nancy, Arthur and Florence - who was born last August.
Their first child, Ivan, who was born profoundly disabled and needed 24-hour care, died in February 2009.
Related Internet Links
The BBC is not responsible for the content of external sites.