Surge in applications for redundancy in the Army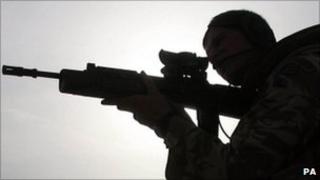 There has been a surge in applications for redundancy in the Army, figures obtained by the Daily Telegraph show.
The overall size of the Army is due to fall by 7,000 from a current strength of around 100,000 soldiers.
In April the Army said it would make 1,000 soldiers redundant, hoping half of those would be voluntary, but has in fact had 900 applications.
BBC defence correspondent Jonathan Beale says this will fuel concerns that the "brightest and best" may leave.
The Army is seeking redundancies as part of its reaction to the Strategic Defence and Security Review (SDSR), which came out in October.
It demanded cuts in numbers in the Army, Royal Navy and RAF.
Among the 900 who have volunteered to leave are several officers who were earmarked for promotion - including two tipped to be future generals - and a number of experienced NCOs.
Colonels queuing up
A total of 52 colonels have applied for the 25 redundancies offered at that level.
Five SAS officers have also chosen to leave, according to the Telegraph.
Col Richard Kemp, a former commander of British Forces in Afghanistan, said the armed forces today was seen as a "declining industry" and high calibre people want to leave because they no longer see career prospects in the Army.
While the Army has almost hit its target of 1,000 redundancies, he says, bosses had been hoping fewer would apply and they would be able to "weed out the remainder".
"In some ways it's good news because it means there probably aren't going to be that many people who are made redundant compulsorily," he told BBC Radio 5 live.
"But on the downside it does suggest some people who are very high quality will be going, people who wouldn't have been normally selected for redundancy, and that can't be good news for the armed forces."
The Army Families Federation has already warned of low morale.
But an Army spokesman said it was working to ensure it had the right balance of experience to maintain its commitments for the future.
Head of Army Manning, Brigadier Richard Nugee, said: "The Army will select a mixture of personnel for redundancy that preserves, across all cap badges, ranks and trades, the right balance of experience, skill and potential to ensure the Army is able to maintain its operational commitments and to continue its outstanding service in the future."
The Telegraph claims the head of the Army, General Sir Peter Wall, held informal interviews with some officers to discourage them from seeking redundancy.
One anonymous officer who is seeking voluntary redundancy told the Telegraph: "When you know what's going on at the moment and the amount of money that's needed to be saved and the impact of that on the Army, what's the point of staying?
"People are seeing the writing on the wall and are saying it's time to go," he added.
An infantry commander told the Telegraph: "I have never known morale quite so shocking. People see the way it's going. There's a real fear of further cuts in 2015."