Cameras installed near Julian Assange's Norfolk bail home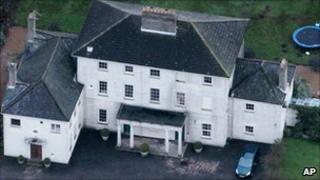 Supporters of WikiLeaks founder Julian Assange claim automatic number plate recognition cameras have been installed outside his bail address in Norfolk.
Mr Assange, 39, has been bailed to live at Ellingham Hall, near Bungay, while he awaits an appeal against extradition to Sweden over sexual assault claims.
His supporters have released a video criticising his bail conditions.
Vaughan Smith, who owns Ellingham Hall, said cameras were at three entrances. Two police forces deny installing them.
In the video, released to mark six months since Mr Assange's first arrest, Mr Smith says: "I'm not an expert on cameras but I believe these take number plates and record number plates.
"I think the country's full of them. But I don't know why I need quite so many around my house."
He told the Press Association that the cameras had been installed within the last three months.
But both Norfolk and Suffolk police forces have told the BBC that the cameras did not belong to them.
Mr Assange has been under house arrest since December last year, and is obliged to report to Beccles police station every day as well as wear an electronic tag.
'Caged animal'
In the video, Mr Smith describes the conditions as a "pretty intrusive regime".
Sarah Harrison from WikiLeaks says in the video: "I'm British and I've always been proud of our justice system, but this is just wrong.
"This is a man that hasn't even been charged and he's being treated like a caged animal."
His former lawyer Mark Stephens, who did not know about the video release, said: "The restrictions on him are unduly burdensome.
"I have felt for some time that they were unduly restrictive. Were someone other than Julian Assange who was in the same position, they would not be subject to the same restrictions."
He said that Mr Assange, who is now being represented by veteran human rights lawyer Gareth Peirce, can apply to have his bail conditions reviewed.
Mr Assange is set to appeal against his extradition to Sweden - where he faces questioning over sexual assault allegations - at the High Court on 12 July.