Pensioners' Parliament questions minister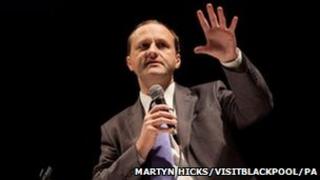 The pensions minister has faced tough questioning on issues such as pensioner poverty and rising gas bills at the Pensioners' Parliament in Blackpool.
Steve Webb faced shouts of "cobblers" and "rubbish" from the audience during parts of his speech.
Defending the government's record, he said the coalition had done its best to protect pensioners considering the state of public finances.
He faced shouts when he said it was just keeping Labour's spending plans.
Mr Webb said he, as a coalition minister, had signed the ministerial papers that restored the link in law between pensions and earnings.
The annual gatherings of the National Pensioners Convention, (NPC) which campaigns for the UK's over 60s, had been calling for this for many years.
'Well spent'
Mr Webb said cuts to winter fuel payments and the cold weather allowance had been planned by Labour and the coalition was simply sticking to the same spending plans.
The pensioners shouted "cobblers", leading to the chairman of proceedings asking them to allow the minister to have his say.
Mr Webb said the cold weather payment scheme, given in exceptionally cold weather, cost £400m but "every penny of that was well spent".
He also promised that 800,000 pensioners would get a one-off £120 credit to their fuel bills following a deal between the government and energy firms.
Earlier this month, Scottish Power announced it was to raise the cost of gas by 19% and the cost of electricity by 10% from 1 August, affecting 2.4 million households in the UK.
"I recognise fuel bills are a concern, 20% rises are huge," he added.