Anti-terror stop-and-search powers need 'safeguards'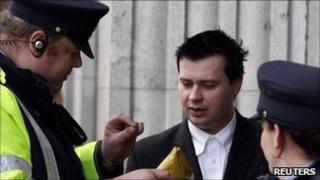 Extra safeguards are needed to ensure counter-terrorism measures do not breach human rights laws, a government report has said.
The government modified the police's ability to stop and search people without grounds for suspicion after it was ruled illegal.
The home secretary now has to authorise a search but only if it is suspected that an act of terrorism could occur.
But the Joint Committee on Human Rights (JCHR) said the changes were too broad.
MPs and peers on the committee said the changes lacked adequate safeguards and did not go far enough to ease concerns raised originally by the European Court of Human Rights (ECHR).
It said police should have to ask a judge to authorise the power before it was used.
The changes introduced by Home Secretary Theresa May in March state that an assistant chief constable must sign the order off before it is then authorised by the home secretary.
It must then be used within 48 hours and cannot last longer than 14 days.
But the JCHR report said the stop-and-search order "in its current form does not go far enough to remove the incompatibility identified by [ECHR] and therefore risks giving rise to further breaches of convention rights".
JCHR said the officer authorising the use of stop and search must "have a reasonable basis for his or her belief as to the necessity of the authorisation and to provide an explanation of those reasons".
Authorisations should not be renewed unless there was "new or additional information or a fresh assessment of the original intelligence that the threat remains immediate and credible", they added.
JCHR chairman Dr Hywel Francis said the changes to stop-and-search powers must not breach the right to privacy in the same way as the powers previously did.
"We welcome the restrictions placed on the power by the government, but we believe it needs to be more tightly circumscribed, and it needs tougher legal safeguards if further breaches of human rights are to be avoided," he said.
"We also think that the government should provide more information about why this power needs to be introduced so urgently, so that the issue can be given proper parliamentary scrutiny."
'Bullying and hassling'
The ECHR ruling in January last year came in a case brought by two Londoners who were stopped and questioned by police near an arms fair in the city in 2003.
The court said Kevin Gillan and Pennie Quinton's right to respect for a private and family life was violated.
And after the failed bomb attack against the Tiger Tiger nightclub in London's Haymarket in 2007, anti-terrorism chiefs ordered an escalation in the use of Section 44 stop-and-search powers.
That resulted in more than 250,000 people being searched in 2008-09 - the highest number on record and more than twice the level of the previous year.
But after a public outcry over the use of searches, which disproportionately affect minority groups, Metropolitan Police Commissioner Sir Paul Stephenson ordered them to be scaled back.
Daniel Hamilton, director of the Big Brother Watch campaign group, said: "While we welcome the conclusions [of JCHR] they could have gone much further.
"Rather than a genuine counter-terrorism and crime-fighting tool, stop and search has been a way of bullying and hassling our increasingly abject population.
"We have to decide what kind of society we want to live in. Arbitrary stop and search powers allow the state to confront an individual in the street, without cause, and demand their papers. It's wrong."
Corinna Ferguson, the lawyer from civil rights group Liberty who took the case on behalf of Mr Gillan and Ms Quinton, said the government "had to tighten the law" on stop and search.
"Unless Parliament addresses this, minority communities will continue to feel unjustly targeted and understandably resentful," she added.