First ladybird study shows decline in some species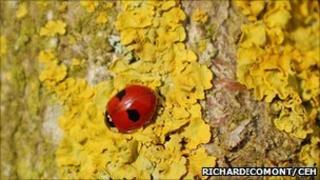 The first study of ladybirds in Britain and Ireland has found some species of the well-loved bug have declined over the last two decades.
The publication, mapping all species of ladybirds, reveals that 10 of them have been decreasing in the past 20 years.
These include the widespread 14-spot and 10-spot ladybirds.
The Centre for Ecology & Hydrology (CEH) study also shows a population explosion of the Asian harlequin ladybird since its arrival in 2004.
Harlequins compete for food, and prey on the larvae of other, smaller species such as the two-spot - which was found to be in decline.
Over 25,000 records of its presence have been recorded across the country, making it the second most commonly recorded species after the more widely known seven-spot ladybird which was noted 27,000 times.
Although researchers could not pinpoint a specific percentage to say by how much certain species were in decline, they said complex modelling showed there was a definite fall in numbers.
The decline has been blamed on changes to habitats and changes to the climate.
One of the reports authors, Dr Helen Roy, said: "What's quite striking is that - in the same way as butterflies and moths have seen very common species going into decline - we're seeing the same happen with ladybirds."
She added that because ladybirds are predatory and carnivorous species, these results show that changes are going up through the food chain.
"Ladybirds can be used as indicators of wider changes in our environment," she said.
Warming temperatures
The study is made up of data gathered by experts with contributions from the public, and took six years to be put together and analysed.
It found that five species were on the increase, including the once-rare orange ladybird whose increase has been attributed to it being able to adapt to life on additional types of tree.
However, it is not yet clear exactly what impact warming temperatures or the arrival of new species has had on the distribution of ladybirds.
Although the report did not look at regional variations, the researchers did notice there was an increase on the kidney spot ladybird and water ladybird in Scotland.
Dr Roy, from the centre based in Wallingford, Oxfordshire, said that as well as being an easy insect for people to spot in their gardens and popular for preying on pests such as other insects, ladybirds were found throughout human culture, in literature, on children's books and as a sign of good fortune.
The study team also included Dr Peter Brown, from Anglia Ruskin University, Dr Remy Poland, from Clifton College, and ladybird recorder Robert Frost, and was supported by the Biological Records Centre.