Slutwalk London: 'Yes means yes and no means no'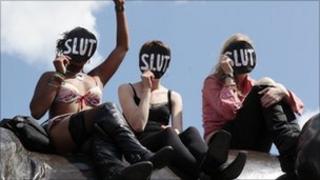 Men in hard hats paused from digging up Piccadilly to watch in stunned silence as the provocative procession marched past.
They would not have dared to wolf whistle as women in stockings, bras and basques passed, clutching banners with statements like "cleavage is not consent".
The women were among the up to 5,000 people organisers say took part in the UK's latest Slutwalk in London on Saturday.
The protest movement was sparked by a Canadian policeman who advised students to "avoid dressing like sluts" to avoid being victimised.
Since then, thousands of people worldwide have taken to the streets to highlight a culture in which they say the victim, rather than the abuser, is blamed.
Whether wearing four-inch heels with "slut" painted on their chests, or jeans and trainers, the marchers were united in their message.
Chants of "blame the rapist not the victim, doesn't matter what I'm dressed in" rang out above the roar of traffic.
"Our culture needs to change - teach people not to rape, not how not to be raped," says 21-year-old student Rhiannon Frame.
Double standards
Some marchers said they knew victims of sex assaults, while others had experienced casual abuse from men who assumed their outfits made them fair game.
"If you go to a club you can be grabbed on the behind three times in an evening by a bloke who thinks it's ok because you're wearing a short skirt. There's an assumption it's flattering," Sophie Durham, 23, said.
Some said women experience double standards in which they are under pressure to look sexy, but are also expected to live chaste lives.
"There's a culture in which women are expected to put out but if they do, they're sluts. Women call other women sluts," Philippa Dunjay, 23 said.
While the march was sparked by attitudes across the Atlantic, marchers said recent comments on rape by Justice Secretary Ken Clarke plus the low conviction rate meant the issue was relevant in the UK.
Mr Clarke was forced to apologise after appearing to suggest some rapes were not as serious as others during a BBC interview on sentencing.
Hannah McQuarrie, 25, said: "His comments were wrong. Any assault which invades someone's privacy or takes away the rights of their body is wrong."
Gemma Bell, 35, said she once served on a jury in a rape trial in which the behaviour and dress of the victim was raised by the defence - a move which was just taken for granted at the time.
"There was a suggestion the victim was in some way responsible, it was used as an expression of fault," she said.
'Feminism is cool'
While there were placards and leaflets by groups such as the Socialist Workers' Party and the London Feminist Network, many present were on their first-ever march.
And some feel the outpouring of protest could mark a new chapter in the feminist movement which has not always been viewed positively by young women.
The organiser of the London event was a 17-year-old sixth former, Anastasia Richardson.
Ms McQuarrie explained: "The way this has grown is very organic and really shows how big an issue this is. A lot of people are taking part who would not describe themselves as feminists, but they are doing it.
"It's fantastic that this has had such a positive response from people and shows that feminism is cool even if it is not cool."
Among the younger marchers were Ellie Rowe, 12, and Lettie Williams, 11, who persuaded their mums to come along.
"We heard about it via Facebook, we need young people to understand what is happening," Ellie said.
But the march was not the sole preserve of women. Men, some in bras, stockings and suspenders, also got into the spirit of the occasion to support the cause.
George Legg, 21, was one of those who wanted to walk to show that most men respected women.
"I am here in solidarity. I can control myself - I am attracted to women but I don't feel the need to pressure them."