Birthday Honours 2011: Profile of Sam Taylor-Wood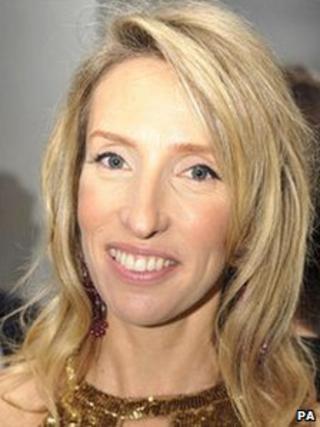 Artist Sam Taylor-Wood works with photographs and video and has recently won acclaim as a feature film director.
The 44-year-old Turner prize nominee has now been made an OBE and says it is an "incredible honour".
Her installations include a National Portrait Gallery commissioned piece in which she filmed David Beckham asleep.
She is also noted for her photo images of people floating in mid air and her Crying Men series, showing a number of Hollywood stars in tears.
In the 2004 work, the likes of Dustin Hoffman, Tim Roth, Woody Harrelson, Michael Gambon, Jude Law, Robert Downey Jr and Paul Newman were photographed after Taylor-Wood got them to perform and cry for the camera.
Speaking of her OBE in the Queen's Birthday Honours list for services to the Arts, Taylor-Wood said: "It's such an incredible honour to receive this award - something I would never have dreamt of.
"It's very gratifying for an artist to get recognition at this level."
Born in Croydon, south London in 1967, Taylor-Wood spent some of her childhood on a commune in East Sussex and graduated from Goldsmiths College in 1990.
She won the Most Promising Artist Award at the Venice Biennale in 1997 but she lost out to Chris Ofili when she was shortlisted for the Turner the following year.
In 2002 she was given a solo exhibition at London's Hayward Gallery.
Home births
According to her biography on the White Cube gallery website, Taylor-Wood's work "examines the split between being and appearance, often placing her human subjects... in situations where the line between interior and external sense of self is in conflict".
In 2008 she directed her first short film drama, the punk rock era-set Love You More, scripted by Patrick Marber.
The artist went on to win praise for her feature film debut, the Bafta-nominated Nowhere Boy in 2009, based on the story of the early life of John Lennon.
It starred Aaron Johnson, 20, with whom she is in a relationship. The couple had a daughter, Wylda Rose, last year.
Taylor-Wood, who has twice overcome battles with cancer, has two other children from her 11-year marriage to art dealer Jay Jopling. The couple split up in 2008.
Last December, she used her stint as a guest editor of BBC Radio 4's Today programme to explore what she saw as the benefits of home births.
Earlier this year Taylor-Wood directed a music video for REM.