Birthday Honours 2011: Profile of Brooke Kinsella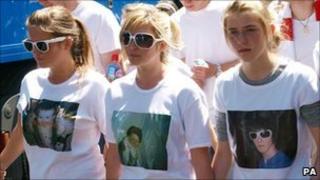 Brooke Kinsella made her name as an actress on EastEnders but has spent the last three years tirelessly campaigning against knife crime.
The murder of her 16-year-old brother Ben in north London in June 2008 devastated the family.
Ms Kinsella, 27, who is being made an MBE in the Queen's Birthday Honours, responded by setting up the Ben Kinsella Trust in his memory.
The government later appointed her as an adviser on the issue.
Ben Kinsella became the 17th teenager to be killed in London in 2008 after a fight in a bar spilled out on to the streets in Islington. Three men were later jailed for his murder.
Ms Kinsella, who played Kelly Taylor in EastEnders from 2001 to 2004, became the public face of the growing horror at the waste of young lives.
The day after the killing she urged teenagers to put down their knives, saying: "Now truly is the time to stand up and put an end to this.
"Please, please let us learn from Ben and every other child that has been stolen from us."
Two days later, hundreds of young people joined Brooke and her sisters Jade and Georgia on a protest march through north London to the place where Ben was stabbed to death.
'Bigger impact'
After working with the Conservatives on knife crime before the general election, Prime Minister David Cameron and Home Secretary Theresa May asked Ms Kinsella to look into the effectiveness of projects designed to keep young people away from violent crime.
She spent July and August 2010 researching the problem with project leaders and community workers and unveiling a report called Tackling knife crime together this February said she had learned that stopping knife crime was not only about harsh prison sentences.
"I've come around to the way of thinking that rehabilitation and re-education might have a bigger impact," she said.
She added: "The key word is prevention, not cure.
"Every kid who has picked up a knife has to have done so for the first time and we need to get in there before the thought even crosses their mind, so that even when it comes to making that choice they're fully aware of the consequences."
She called for anti-knife crime workshops to be held at primary schools but added that the courts did need to get tough with repeat offenders.
Her MBE is for services to the prevention of knife crime.