Newspaper review: Archbishop of Canterbury in headlines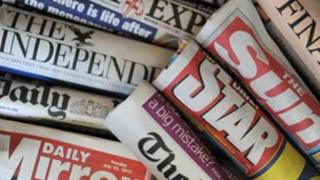 The question of whether the Archbishop of Canterbury was right to criticise the government in a magazine article divides Friday's papers.
The Daily Mirror says David Cameron has been rattled by criticism that his regime is "inflicting pain and pursing policies without a mandate".
But the Sun says he was "holy wrong" to issue what it calls a destructive rant, coloured by political prejudice.
It describes him as a "gobby spokesman for socialism".
The Daily Telegraph leads with five pages of detail on what it calls "the Balls files". .
The paper publishes leaked documents which it says reveal how the shadow chancellor, Ed Balls, took part in what Gordon Brown described as a "brutal" plot to replace Tony Blair.
The Telegraph's columnist Peter Oborne argues that years later, the same divisions exist within the party.
He says until it sorts itself out, Labour will never return to power.
The Daily Mail highlights figures showing that more than a million people have been claiming at least one of the three main out-of-work benefits for the past ten years. .
The Daily Star says this is a devastatingly huge figure and a mammoth drain on tax-payers' cash.
Writing in the Daily Express, Employment Minister Chris Grayling says many of them want to return to work.
He said they will be offered the personalised help they need to do so.
Many of the papers wish the Duke of Edinburgh many happy returns on his 90th birthday.
As he enters his tenth decade with the vibrancy of a man half his age, says the Times, both his Queen and her country have reason to celebrate.
The duke might not relish the fuss being made, suggests the Daily Telegraph, but he merits it.
And the Daily Mirror prefers to mark the duke's birthday by offering its readers his 90 "greatest gaffes"..