Sir Fred Goodwin 'affair' injunction not lifted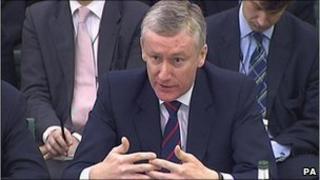 A High Court judge has refused to lift an order banning journalists naming a woman with whom former bank boss Sir Fred Goodwin had an alleged affair.
Lawyers from News Group Newspapers - publishers of the News of the World and the Sun - asked Mr Justice Tugendhat to lift the privacy injunction.
He refused but said papers could publish details of the woman's job.
Sir Fred, a former colleague of the woman, was head of the Royal Bank of Scotland when it collapsed in 2008.
At the High Court, Mr Justice Tugendhat ruled that the papers could not identify the woman but said they could publish details of her job description.
The exact wording of that job description, however, is subject to further argument between the parties.
Hugh Tomlinson QC, representing the woman, said he intended to pursue an appeal about disclosing job details and was granted a stay until 23 June pending an application to the Court of Appeal.
Mr Justice Tugendhat said his judgement had not been about keeping secrets but to prevent "intrusion and distress" to the woman concerned.
He added that it was particularly important that any job description given for the woman - referred to in court as VBN - should not be so general as to be likely to be understood to refer to any one else.
He said VBN's evidence was that she was a private person, with a family, and that publication of her name would be a very serious intrusion into her private and family life.
Mr Justice Tugendhat then referred to Sir Fred's witness statement in which he said the nature of the relationship was an "entirely private matter".
"I am a private man. I have never discussed my personal life or relationships in public."
Sir Fred said he believed publication would have a "very substantial impact on the way in which friends, colleagues and business contacts relate to me and therefore a serious negative impact on my personal life and career".
Stifling debate
The privacy injunction was imposed earlier this year.
Last month, Mr Justice Tugendhat lifted a ban preventing journalists saying Sir Fred had the alleged relationship with the woman.
His identity was first revealed in the House of Lords, after which News Group newspapers made a court application. The judge then varied a privacy order to allow his name to be published.
News Group's counsel argued that the ban on revealing the woman's identity was stifling public debate in the aftermath of RBS's collapse.
Richard Spearman QC told the judge the matter was "plainly a matter of real, genuine, public interest".
But Mr Tomlinson, the woman's counsel, said News Group was seeking to build an application on "no foundations at all" and there was no evidence of any public interest.