Organised crime killings rare - Home Office study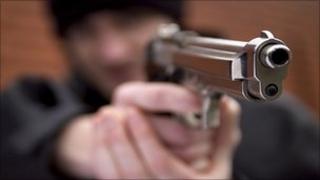 Only a "very small" number of killings are linked to organised crime, a Home Office study has suggested.
Analysis of 696 murder and manslaughter cases in England and Wales in 2005-6 showed only 42 (6%) of them were known to be linked to organised crime.
Of these, 17 deaths were linked to organised crime groups with a "recognisable structure" and none involved large-scale networks.
It comes as plans for a new agency to tackle organised crime were unveiled.
Home Secretary Theresa May announced details of the new National Crime Agency, which will replace the Serious Organised Crime Agency (Soca) covering drugs and gun crime, and the Child Exploitation and Online Protection Centre.
The study, commissioned in 2009, aimed to identify how many killings involved organised crime, and the links between the two.
Other findings included:
Killings linked to organised crime occurred mainly on the street, whereas other killings tended to happen in the victim's home
Organised crime victims were more likely to be stabbed or shot. Beatings and strangulation were more common in cases not related to organised crime
Victims and suspected killers were mostly male and between 18 and 29-years-old - a pattern that was even more pronounced in cases linked to organised crime.
There was a far higher proportion of black victims and suspects in organised crime killings than in other killings
The 17 deaths linked to organised crime groups were mostly committed to wipe out economic competition or seek retribution on a rival or group member for stealing drugs or money, or crossing the group in some way
The study concluded: "One of the most striking findings of the research was the failure to uncover any evidence that substantial, well-organised criminal enterprises had been involved in homicides in 2005-06.
"It is not possible to conclude that there was no such involvement, although if there was, it was well disguised, unknown to the police and rare."
Researchers worked with Home Office data and conducted in-depth interviews with investigating police officers.
The year was chosen because it was considered recent enough that investigating officers would still be in their posts and remember the case and far enough off that most investigations would be complete, meaning officers could speak freely.