Professor AC Grayling talk: Flare set off by protesters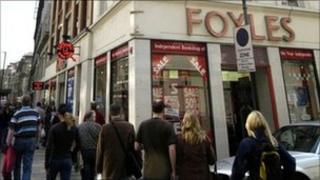 Protesters have set off a smoke flare at a talk given by an academic who has helped to launch a new private college.
The central London-based New College of the Humanities (NCH) will charge students £18,000 in fees each year.
Professor AC Grayling, who will become president of the college, was heckled as he talked about arts funding cuts at Foyles bookshop on Charing Cross Road.
As the discussion was drawing to a close, a red smoke flare was set off in the crowd of about 100 people.
Sion Hamilton, manager of Foyles Charing Cross Road, said Prof Grayling had been booked "some months ago" for a discussion about the arts in the UK.
He had offered to answer students' questions for 20 minutes after the event but the company said it regretted "that one individual decided to curtail this opportunity for further discussion by letting off a smoke bomb at the end".
The people attending the debate were evacuated from the top floor of the central London shop and many were seen coughing as they walked away after the incident.
When the philosopher started to talk, someone from the crowd shouted: "You have no right to speak" and another called out "venture capitalist".
One protester said: "You should be defending public education not deserting it."
'Gifted' undergraduates
NCH will be based in Bloomsbury, central London, and will open in October 2012.
The college says it will teach "gifted" undergraduates and prepare them for degrees from the University of London.
The 14 professors involved include biologist Richard Dawkins and historian Sir David Cannadine.
The college will offer eight undergraduate courses in the humanities taught by some of the world's most prominent academics.
Degrees cover five subject areas - law, economics, history, English literature and philosophy.
Students will also take three "intellectual skills" modules in science literacy, logic and critical thinking and applied ethics.
Prof Grayling, the philosopher who will be the college's first Master, secured millions of pounds of funding from investors to set up the institution.
He said: "Our priorities at the college will be excellent teaching quality, excellent ratios of teachers to students, and a strongly supportive and responsive learning environment.
"Our students will be challenged to develop as skilled, informed and reflective thinkers, and will receive an education to match that aspiration."
The government has set fees in England's public universities at a maximum of £9,000 from September next year.