Preventing violent extremism: A failed policy?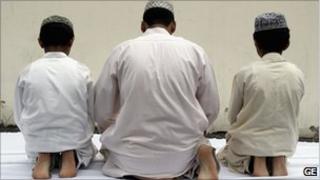 Over the course of the past three years, a south London project has worked with Muslim teenagers leaving prison, attempting to keep them away from gangs and, more seriously, al-Qaeda's ideology.
But the official funding given to STREET - Strategy to Reach Empower & Educate Teenagers - has now dried up.
Abdul Haqq Baker, the founder, says the Home Office hasn't told him why he has lost £300,000 a year, even though he believes his team have kept vulnerable young people away from terrorism. In the past year, they worked with 30 offenders, some of whom had terrorism-related convictions.
"To my knowledge, none of our referrals has been involved in serious reoffending," says Dr Baker.
"I want an explanation why I've lost the funding - but it's not been forthcoming. So I can only assume it's political.
"I didn't ask the government for money in the first place," he says. "They came to me to see our work and were so impressed they invited us to apply. All we have heard [from every government official] is overwhelmingly positive."
STREET has lost funding as the coalition government reshapes one of the most difficult and controversial politics of Labour's years - Preventing Violent Extremism, or "Prevent".
Developed in the wake of the 7/7 bombings, almost £80m was spent on 1,000 Prevent schemes between 2007 and this year. Some 94 local authorities were tasked with finding the right local people to fund in the battle against al-Qaeda.
But, from its inception it was dogged with controversy, with accusations that money was going to the wrong groups - and it was impossible to establish whether any of what had been spent was doing any good.
But everything is about to change. The revised Prevent strategy effectively says that organisations won't get cash if they are deemed to hold "extremist views".
New direction
Earlier this year, Prime Minister David Cameron set the course on engagement with Muslim groups in a speech in Munich.
"We should properly judge these organisations," he said. "Do they believe in universal human rights - including for women and people of other faiths?
"Do they believe in equality of all before the law? Do they believe in democracy and the right of people to elect their own government? Do they encourage integration or separation?
"Fail these tests and the presumption should be not to engage with organisations - so, no public money, no sharing of platforms with ministers at home."
Abdul Haqq Baker follows the conservative Salafi doctrine. It is most commonly linked to Saudi Arabia and is one of the sects criticised by the prime minister's supporters and advisers, particularly over women's and gay rights. But Dr Baker says his track record in confronting extremism speaks for itself.
Dr Baker says: "I agree with David Cameron in fighting non-violent extremists.
"If individuals are advocating Sharia law, we are not with them. If they want to live under Sharia, then they know where those countries are and they are free to go there.
"But when it comes to defining Britishness, then the litmus test should not be whether I subscribe or not to everything that the government says is British. I am not breaking the law because of my views on homosexuality - and I know that a lot of Christians have the same views. "
'Tackle ideology'
Haras Rafiq, a government adviser, is an outspoken critic of some conservative groups which he says are arguably part of a conveyor belt towards terrorism - an approach that appears to be embedded in the new Prevent strategy.
"The coalition's new approach to Prevent is going to be a step in the right direction," he says.
"It's no good tackling the violence if you are not prepared to tackle the ideology that lies behind it.
"The government must now make sure that only the right groups get money - because the danger is that if the Home Office withholds Prevent cash from someone, they will just go to another arm of government and get funding another way."
Supporters of projects like STREET say the evidence shows that conservative thinkers have theological arguments that are capable of combating al-Qaeda.
But Jonathan Githens-Mazer, an expert on extremism at Exeter University, says the basic challenges with assessing Prevent's success were compounded by one massive error during Labour's years in power.
The plans to combat radicalisation became jumbled up with soft policies on improving integration, rather than remaining tightly focused on counter-terrorism.
Newcastle, for instance, received some £400,000 of Prevent cash, some of which went on a schools DVD raising awareness about Islamophobia. Similar projects appeared in other cities.
Dr Githens-Mazer says: "There was a push-back from Muslim communities who were antagonised because they could only get funding for their local projects if it was attached to the idea of Muslims being terrorists."
And so local tensions over Prevent led to some odd situations, such as in Bradford. It received almost £1.5m of funding but ministers did not require the area to meet a national target on combating extremism.
These kinds of problems over the government's intentions effectively came to a head last year when a huge row blew up in the West Midlands over alleged "spy cameras" that were eventually removed.
None of which, argues Dr Githens-Mazer, has helped define the problem.
"We are absolutely no closer to understanding what radicalisation and extremism actually mean," says Dr Githens-Mazer.
"These are words that look tough and sound good, but like "green", they are vapid. They mean very little when it comes to defining a policy."