Yemen: Royal Marines on standby to evacuate Britons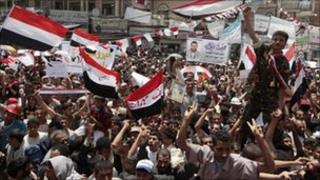 Eighty Royal Marines are on standby off the coast of Yemen to assist with the possible evacuation of British civilians, the BBC has learned.
The marines are thought to be aboard a naval support ship, RFA Argus, near Yemen, according to naval sources.
The Ministry of Defence said British military assets were in the region but would not comment on their exact task.
Several hundred Britons are thought to be in Yemen, affected by violence and political instability for weeks.
President Ali Abdullah Saleh, who has ruled since 1978, has refused to leave office despite protests and a tribal uprising which has brought the country to the brink of civil war and resulted in more than 350 deaths.
According to naval sources, marines are in the area carrying out training exercises and can be deployed to Yemen within 48 hours.
The Ministry of Defence has said only that, as part of routine deployment, British military assets are in the region.
Downing Street has declined to say if the Marines were preparing for an evacuation.
Prime Minister David Cameron's official spokesman said: "That is a routine military deployment to the region. I don't think we would want to comment further on their operations.
"Since March this year we have been advising British nationals who remain in Yemen to leave without delay. It will not come as a surprise that there are risks to remaining in that country."
Power transfer
At the weekend, Foreign Secretary William Hague said on the Foreign Office website he was worried about the situation in Yemen.
He urged any remaining Britons in the country - who are thought to number a few hundred - to leave immediately while commercial flights were still operating.
The FCO website warned that routes in and out of the Yemeni capital, Sanaa, and other major cities might be blocked and airports closed, or inaccessible, at little or no notice.
Mr Hague has reiterated advice first made on 12 March, saying it was "unlikely" the UK would be able to evacuate stranded nationals, and told people not to plan for government assistance.
Britain has long been associated with Yemen. The country draws Britons to work in its oil and gas industry, as well as in development and on NGO projects, while Yemeni communities have settled in the UK.
"Significant" numbers of individuals with dual British nationality were still in Yemen, the prime minister's spokesman said.
Another ship in the Royal Navy's Response Force Task Group, the helicopter carrier HMS Ocean, has been used as the launching pad for four Apache helicopters operating against targets in Libya.
A fifth Apache is expected to join the ship later in the week.
Earlier, Yemen's main opposition coalition said it would accept a transfer of power to Vice-President Abd-Rabbu Mansour Hadi, after he stepped in when Mr Saleh left Saudi Arabia for medical treatment following an attack on his compound in Sanaa last week.
Otherwise, the opposition leaders said, they would seek to form a transitional government.