Liam Fox denies 'six-month Libya 'deadline'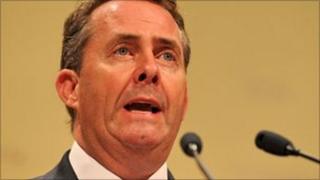 Defence Secretary Liam Fox has denied that military action in Libya has a six-month deadline.
In a speech, Dr Fox said the Strategic Defence and Security Review had allowed for "one long enduring mission like Afghanistan" and one shorter programme "of about six months' duration".
But his spokesman said this did not mean there was a working assumption the mission in Libya would last that long.
"We are there for the long haul to protect the Libyan people," he added.
Military action in Libya had been "extraordinarily successful", Dr Fox added.
He was speaking to a conference organised by Conservative Intelligence - which provides advice on Tory thinking - on Monday morning.
Speaking about the Strategic Defence and Security Review (SDSR), Dr Fox said: "We knew that we would get a test, I wasn't quite expecting the test to come so quickly as it came with Libya, but we said in our SDSR we would be able to carry out one long enduring mission like Afghanistan - when we have a core force of 9,500 but regularly 11,000 or more actually on the ground.
"And we said we would also be able to carry out one shorter programme - meaning one of about six months' duration - and we have been, I think, extraordinarily successful with what we have done in Libya."
'Inspired'
Dr Fox said the UK had "set the pace" and been "driving very much of the military process" in Libya.
"We were able through Nato to stand up with command and control, we were able to get our assets moving very quickly, we were more than capable within the limitations we had to get our air power projected... to ensure that we had Typhoon and Tornado performing very effectively, of course very recently adding in our Apache attack helicopters," he said.
But he said the SDSR - which cut billions of pounds from the Ministry of Defence budget - would not be revisited.
Meanwhile, initial estimates of the cost of UK Libya operations have been released by Armed Forces Minister Nick Harvey in response to a parliamentary question in the House of Commons.
He revealed that £6m of bombs and missiles were being fired every week, while the weekly cost of fuel for the jets taking part in the operation is about £300,000.
Accommodation for personnel based in Italy has also cost £285,000 a week, according to Ministry of Defence figures.
But Mr Harvey said he expected the cost of the UK's involvement in Nato operations over Libya to be "modest" in comparison with other operations such as Afghanistan.
On Sunday, Foreign Secretary William Hague - who visited the rebel-held city of Benghazi in Libya - said the government had "no deadline" for military operations in Libya.
Speaking to the Andrew Marr Show, he said: "We're not going to set a deadline. You're asking about Christmas and who knows? It could be days or weeks or months. It is worth doing."
During his visit, Mr Hague discussed a political roadmap for the future with the rebels' Transitional National Council.
But he said plans for what to do after the fall of Colonel Gaddafi were at an "embryonic stage".
The Gaddafi government "strongly denounced" what it called the "illegal" visit.
UK Apache attack helicopters were in action over Libya for the first time over the weekend.
On Wednesday, Nato extended its mission in Libya by 90 days.
Nato intervened in Libya after the UN passed a resolution for the protection of civilians, amid a two-month revolt inspired by other uprisings in the Arab world.
It has intensified raids in recent weeks, with attacks on command bases in the capital Tripoli.
The intervention was initially led by France, Britain and the US until 31 March - when Nato took over.
Last Wednesday, UN investigators accused government forces in Libya of war crimes and crimes against humanity.
Rights experts said they had found evidence of crimes including murder and torture, in a pattern suggesting Libyan leader Muammar Gaddafi was behind them.