Soldier dies in Afghanistan blast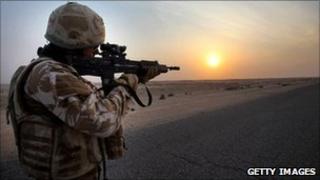 A British soldier has been killed by a bomb while on a patrol in Afghanistan, the Ministry of Defence has said.
The unnamed soldier, from 1st Battalion The Rifles, died on Sunday while on patrol in the Haji Kareen area of the Nahr-e Saraj (south) district.
Next-of-kin have been informed. Earlier the MoD had announced a member of 42 Commando Royal Marines was shot dead by insurgents, also on Sunday.
The number of personnel killed in Afghanistan since 2001 is now 371.
Spokesman for Task Force Helmand Lt Col Tim Purbrick said: "The soldier was part of a foot patrol, supporting an Afghan National Security Forces operation to clear one of the last remaining insurgent safe havens in central Helmand, when he was fatally wounded by an improvised explosive device.
"Our thoughts and prayers are with his family and friends.
"The family have been informed and have requested a 24-hour period before further details are released."