'Perfect' Highland soldier killed on patrol in Afghanistan is named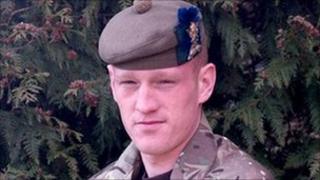 A UK soldier killed while on a security patrol in Afghanistan has been named.
Father-of-two Corporal Michael John Pike, 26, of 4th Battalion, The Royal Regiment of Scotland, died on Friday.
His commanding officer described him as "the perfect example of a Highland soldier- loyal and fiercely courageous".
The death of Cpl Pike, who was from Huntly, Aberdeenshire, brings the number of UK MoD deaths in operations in Afghanistan since 2001 to 369.
He had been sent with his unit to Pupalzay, along the Highway 601 in the Lashkar Gah area of Helmand province.
Cpl Pike was taking part in an operation to prevent the insurgents from "intimidating the local population" and attacking an Afghan police checkpoint.
His patrol came under fire from rifles and rocket-propelled grenades.
'Loyal and courageous'
Cpl Pike, who had two children, Joshua and Evelynn, had been deployed to Afghanistan in April.
He joined the Army as a private in 2002. After a tour of Iraq, he served in Helmand province in 2008.
His commanding officer, Lieutenant Colonel A J Aitken, said: "The loss of Cpl Mike Pike has been felt deeply by all ranks of the battalion.
"He was an enormously popular, charismatic and engaging character; a natural leader in every way. As a junior commander he was entirely dedicated to his soldiers, leading from the front with every step and they would follow him anywhere.
"A natural practical joker, his innate sense of fun was a constant source of amusement and relief for the whole platoon."
"He was marked out by his constant wry smile whether leading his company from the front at PT or pushing his section on when under pressure; simply unflappable," he added.
Eyewitnesses said Cpl Pike "didn't go down without a fight" and was offering covering fire when he was killed.
His platoon commander, Lieutenant Robert Grant, said his loss "strikes deep into the heart and soul of all those who knew him".
He said: "His death, saving the lives of the men he was devoted to, marks the tragic end of a life that has touched so many, so deeply that it seems almost unreal."
Cpl Pike's wife, Ida, said: "He would want everybody to know that he died doing a job he loved and that he loved our children with all his heart and soul."
Defence Secretary Liam Fox, said: "It is clear from the tributes paid to Cpl Pike by his friends and colleagues that he was a talented soldier with a bright future, a loving family man, and a great friend to so many.
"My thoughts are with his family, friends, and colleagues as they come to terms with his loss."