Britons urged to leave Yemen immediately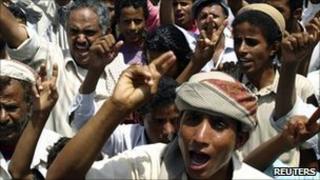 Britons should leave Yemen immediately as it is "unlikely" the UK will be able to evacuate stranded nationals, the foreign secretary has said.
William Hague said UK nationals should leave while commercial flights were still operating and urged them not to plan for government assistance.
He reiterated the advice, first made on 12 March, after "today's extremely serious escalation of violence".
President Ali Abdullah Saleh was reportedly hurt in an attack in Sanaa.
More than 350 people have died in an uprising by armed tribes against Yemen's government, which began in January - but at least 135 of them have died in the past 10 days.
In its travel advice the Foreign Office said its current ability to provide consular assistance was "very limited".
Airports inaccessible
Routes in and out of the capital Sanaa and the other major cities may be blocked and airports closed or inaccessible at little or no notice, it warned.
The foreign secretary said this could hamper a government evacuation.
In a statement, he said: "Given that we cannot expect forewarning of any airport closures, British Nationals should not wait to leave.
"We have already said that in such a difficult security situation it is extremely unlikely the British government will be able to evacuate British nationals.
"In light of the latest escalations, I cannot restate this strongly enough... we will not be in a position to evacuate those who do not leave on commercial airlines while these are still flying.
"I ask those in the UK with friends and relatives in Yemen to pass this message on and tell them to leave now.
"You should not plan for nor expect the British government to be in a position to assist you to reach safety."
President Ali Abdullah Saleh was injured in the attack on a mosque in his compound along with the prime minister and speaker of parliament.
Three guards were killed.
Earlier, troops shelled the home of the brother of the tribal leader whose supporters they are fighting.
Thousands meanwhile attended a funeral for 50 people killed in the violence, and there were huge demonstrations after Friday prayers.
In the southern city of Taiz, at least three members of the security forces and two protesters were killed in clashes, officials and doctors said.