Pets on beds trend suggested by ICM poll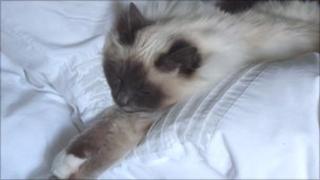 A quarter of British pet owners who took part in a survey said they allow their pets to sleep in bed with them.
The ICM poll suggested that pets in Scotland were most likely to sleep on their owner's bed, with a dog or cat proving to be most popular.
Women were more likely than men to allow their pet onto the bed - 27% compared with 22% - the research found.
Experts have warned of health implications for pet owners who routinely share their bed with animals.
In pyjamas
On average 25% of people in the UK have allowed their pet to share their bed at one time or another, while one-in-six said they would always allow it, figures suggest.
The figure for Scotland (37%) is nearly double that of people in the Midlands or the north of England (both 20%).
Some four per cent of pet owners ensure their animal wears pyjamas, the results revealed - this was most popular among respondents aged between 25 and 34.
Elaine Pendlebury, senior veterinary surgeon at the PDSA, said disease transmission, including salmonella, toxocara canis - a type of roundworm in dogs - and fleas, was a concern.
Pets could be suffering from disease without any sign of symptoms, she added.
"Obviously it's nice that people are bonding with their pets and they are becoming part of the familiarity but there are lots of considerations," she said.
"There are diseases that can be transmitted from dogs to people and this is something that needs particular consideration when you've got a dog sleeping in your bed.
"These diseases can range from the minor to the very serious.
"The other thing is dogs are dogs, they are not mini people".
She said health implications were less important when sharing a bed with a cat but scratches or bites could be a concern.
Changes in behaviour were also a worry, the vet said.
She warned that overfamiliarity could lead to dogs becoming aggressive with their owners or experiencing separation anxiety.
"Taking a dog for a walk in the park is lovely but dressing them in pyjamas is one step too far," she added.
Aggie MacKenzie, co-presenter of Channel 4 series How Clean Is Your House?, said inviting pets into the bedroom was not healthy.
"We know that cats and dogs wander outside and there are a lot of strains of bacteria in the soil that they can bring in," she said.
"Also asthma is hugely on the rise and the dander [material shed from the bodies of animals] and so on from pets is a huge contributor to the trigger of asthma attacks."
The research, commissioned by John Lewis Insurance, surveyed 2,003 UK pet owners between 25 and 27 February.
Those who took part were asked: "How often does your pet sleep in the same bed as a family member?"
Of the respondents, 16% - 137 people - said they would always share their bed with a pet, nine per cent said they would do this regularly, 24% said rarely and 51% said they would never allow it.