Dame Judi Dench and Sting head drug rethink call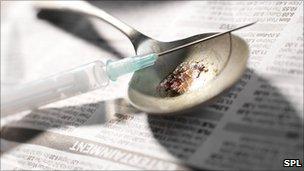 Several high profile figures have signed an open letter urging Prime Minister David Cameron to consider decriminalising drugs.
Dame Judi Dench and Sting were among more than 30 signatories.
It comes as a report by the Global Commission on Drug Policy, whose members include Sir Richard Branson, urged legalisation of some drugs and an end to the criminalisation of users.
The Home Office said it had "no intention" of liberalising drugs laws.
The open letter, which was also signed by former defence secretary Bob Ainsworth and actor Kathy Burke, called for the "immediate decriminalisation of drug possession" if a policy review shows it has failed.
Francis Wilkinson, Tom Lloyd and Paul Whitehouse - former police chiefs of constabularies in Gwent, Cambridgeshire and Sussex respectively - also signed the open letter.
Oscar-winning actress Dame Judi urged Mr Cameron to carry out "a swift and transparent review of the effectiveness of current drug policies".
And Sting added: "Giving young people criminal records for minor drug possession serves little purpose - it is time to think of more imaginative ways of addressing drug use in our society."
The open letter states: "Should such a review of the evidence demonstrate the failure of the current position we would call for the immediate decriminalisation of drug possession."
Nearly 80,000 people in the UK were convicted or cautioned for possessing an illegal drug in the last year alone, the letter published by campaign group Release said.
Meanwhile, Sir Richard, who was joined on the Global Commission on Drug Policy panel by former UN Secretary General Kofi Annan and the former leaders of Mexico, Colombia and Brazil, said a new approach was needed.
He said there was a need for a strategy that "takes the power out of the hands of organised crime and treats people with addiction problems like patients, not criminals."
He said new approaches "focused on regulation and decriminalisation have worked" and urged leaders to look at "alternative, fact-based approaches".
The entrepreneur said there was a need for "more humane and effective ways to reduce the harm caused by drugs", arguing that the so-called war on drugs had failed to cut usage and fuelled organised crime.
A Home Office spokesman said: "We have no intention of liberalising our drugs laws. Drugs are illegal because they are harmful - they destroy lives and cause untold misery to families and communities.
"Those caught in the cycle of dependency must be supported to live drug-free lives, but giving people a green light to possess drugs through decriminalisation is clearly not the answer."
The spokesman said action was being taken through "tough enforcement, both inland and abroad" which would operate alongside introducing temporary banning powers and "robust treatment programmes" to lead people into drug-free recovery.
Chief Constable Tim Hollis, of the Association of Chief Police Officers (Acpo), said he welcomed a "mature debate" around the harm caused by drugs and "possible alternative solutions", although he stressed that the issue of drug decriminalisation is a matter for the government and their advisers.
'More sophisticated approach'
He said: "In terms of the police's enforcement role, it is my belief that our efforts are best utilised in focussing on organised crime and those dealing in drugs rather than simple possession.
"The emerging evidence is that putting young people before the courts for simple possession does not solve the problem. A more sophisticated approach combining prevention and education, enforcement and treatment is required."
The open letter comes as a report by the Global Commission on Drug Policy said action was needed "urgently" and "policies need to change now".
The commission said its research in the UK, looking at the effects of the policy of diversion from custody into treatment programmes, demonstrated a reduction in offending following treatment intervention.
And, using police criminal records data, researchers found that the numbers of charges brought against 1,476 drug users in the years before and after entering treatment reduced by 48%.
"There are signs of inertia in the drug policy debate in some parts of the world as policymakers understand that current policies and strategies are failing but do not know what to do instead," the report stated.
The commission urged UN Secretary General Ban Ki-moon to help create "a truly co-ordinated and coherent global drug strategy that balances the need to stifle drug supply and fight organised crime with the need to provide health services, social care, and economic development to affected individuals and communities".
It also called for an end to the "criminalisation, marginalisation and stigmatisation of people who use drugs but who do no harm to others.
The commission said countries that continue to invest mostly in a law enforcement approach should focus their repressive actions on violent organised crime and drug traffickers in order to reduce the harm associated with the illicit drug market.
Related Internet Links
The BBC is not responsible for the content of external sites.