Afghan bomb death soldier named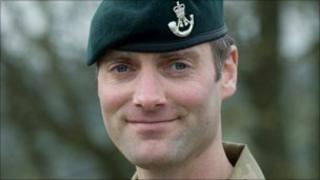 A soldier killed in an explosion in Helmand Province on Monday has been named by the Ministry of Defence.
Colour Sjt Kevin Charles Fortuna, 36, of A Company, 1st Battalion The Rifles, from Cheltenham, was killed while on a patrol in Nahr-e Saraj district.
He was described as a "phenomenal, irreplaceable individual," who was "very much a star of the future".
His death takes the number of British military fatalities in operations in Afghanistan since 2001 to 366.
He leaves behind his wife, Nia, mother Sue and brother Kris.
They said in a statement: "Kevin was a true professional who loved his job and lived life to the full. He gave 19 loyal years to the army and will be sadly missed by his wife, mother, family and friends."
Colour Sjt Fortuna, who was born in Portsmouth, joined the army aged 16, going on to serve in Yugoslavia, Northern Ireland, Kosovo, Afghanistan and Iraq.
His commanding officer, Lt Col James de Labillière, said he was "an utterly professional commander, Rifleman and a man of irreproachable integrity".
'Master tactician'
He said: "His presence strengthened the battalion and the loss with his passing will be acute. He was remarkable for many reasons, not least his complete and unwavering commitment to his Riflemen and their care.
"He was restless until he had achieved the very best for them and encouraged them to be restless until they achieved the very best for themselves. He was a master-tactician and a soldier of great experience."
Colour Sjt Fortuna had been promoted and was to be a Company Sgt Maj in three months' time.
Defence Secretary Dr Liam Fox said: "I was greatly saddened to hear of the death of Colour Sjt Kevin Fortuna in Afghanistan. He was an exceptional soldier with significant operational experience and his loss will be keenly felt by his close-knit unit.
"He cared passionately for those under his command and was highly respected and popular throughout the battalion. My thoughts are with his family and friends at this difficult time."