Vegetables invited to Chelsea's top table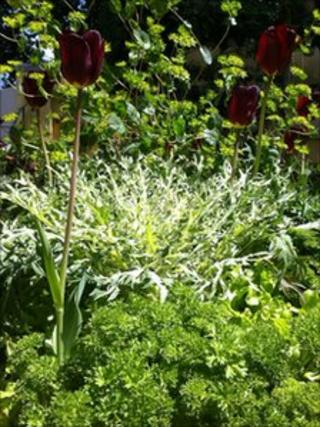 Strolling in the sunshine at the Chelsea Flower Show this week, I was struck by a vegetable. And then another.
As I looked around I realised that any number of the show gardens had been infiltrated by cabbages, lettuces, onions and spinach, elbowing aside ostentatious but inedible blooms with their promise of sustainability and low-cost nutrition in these austere days.
They have always been at Chelsea, of course. The traditions of the English local flower show with its prizes for largest leeks and plumpest parsnips have for decades been translated into the most extraordinary displays under the roof of the central tent.
But perhaps exploiting the dark clouds of economic uncertainty, asparagus and kale, chive and radish have gradually managed to smuggle themselves outdoors and among the aristocratic residents of the expensive plots on the main avenue. This year they are everywhere.
The British have always tended to keep their kitchen gardens separate from their formal displays.
Utilitarian
Traditionally, the carrots and potatoes were likely to be found growing round the back by the potting shed, close to the compost heap and surrounded by a camouflaging hedge.
On show would be flowers and exotic plants competing for attention like supermodels and intellectuals at a champagne reception, claiming either to be the most beautiful or the most interesting in the room.
Veg have been seen as proletarian and functional, flowers as poetic and sophisticated. The ancient upstairs-downstairs class divide slices through horticulture as with so much else in British life.
It is a different story in France, of course, where the institution of the "potager", an ornamental vegetable or kitchen garden, can be traced back to medieval times.
French passion for good food and fine cuisine meant that the process of growing fresh vegetables and herbs was seen as something to be celebrated, not hidden away.
At Villandry, the great Renaissance chateau west of Tours, Louis XIV's head gardener Jean de la Quintinie wrote that he was "so convinced of the innocent pleasure given by the sight of a handsome potager that in all large gardens I recommend building a pavilion, not merely to provide shelter in storms… but also for the pleasure derived from admiring in comfort land that is well used."
Today visitors to the Chateau Villandry marvel at the potager recreated in the early 20th Century, based on 16th Century illustrations and divided into nine equal squares; formal raised beds filled with green parsley and ruby chard, blue leeks and purple cabbages - produce elevated to art.
The spirit of "egalite" that treats humble vegetables with the same reverence as delicate flowers has arrived in Chelsea.
Wartime spirit
The B&Q garden is dominated by a nine-metre tower dripping with tomatoes, chillies, basil and borage. The designers say it is supposed to "encourage individuals and communities to develop sustainable food growing spaces and enhance urban greening, no matter what the size of their plot".
There is a "Dig for Victory" wartime spirit on the banks of the Thames, with show gardeners echoing the way King George VI dug up the lawns and ripped out the dahlias in the Royal Parks to plant vegetables during World War II.
Everything growing in the B&Q garden is edible, with the design team saying it is about "planting and producing food wherever we can as it is said London would run out of food in four days if supplied ceased". Do they know something we don't?
It is a similar story in the M&G garden, christened the "Baroque allotment" on TV last night. Among raised beds of Purple Frills mustard and Peacock Tails kale, I met its designer Bunny Guinness who admitted she had been inspired by the French potager.
"While the English put their effort into a lawn with a few vegetables at the back, in France it is the other way around," she told me, explaining that her show garden could feed a family of six for a year.
The fragrance of herbs and lavender hung over rows of Red Drumhead cabbages which defied you to say they weren't beautiful.
The Black Forest courgettes, the Tromboncino squash and Malbar spinach demanded to be regarded as handsome as well as wholesome.
Look closely in the Daily Telegraph garden which won best in show and you can see, yes it is, proud leeks.
For centuries in Britain, veg were regarded as peasant and cattle fodder. For King Henry VIII to have been seen eating a carrot stick would have been to betray England's social order; as shocking today as a YouTube clip of the Queen secretly guzzling a monster chicken bargain bucket.
Vegetables place at the Tudor top table was restricted to a few small "sallets" and garnishes surrounded by colossal quantities of expensive meat.
Green revival
But by the 20th Century, the status of the vegetable was being turned on its head.
What became known as the "golden age of nutrition" saw the educated and affluent classes increasingly look to fruit and veg as routes to health and happiness while the working classes exploited the arrival of cheap meat to consume larger quantities of the beef, pork and lamb denied to their ancestors.
By the 1980s, health officials were warning of a nation indulging in a mock Tudor diet, consuming far too much red meat and not nearly enough green vegetables. This time, though, it wasn't the wealthiest that were indulging most. It was the poorest.
Researchers working in Norfolk found they were able to predict how many vegetables someone consumed by their job and their postcode.
"Being in a manual occupational social class, having no educational qualifications, and living in a deprived area all independently predicted significantly lower consumption of fruit and vegetables," they reported.
The last decade or so has seen the arrival of flowering miniature courgettes, sweet stem broccoli and baby fennel on the supermarket shelves - vegetables these days are not regarded as peasant fodder or a hippy fad; they have become a statement of middle-class cool.
Wander round the local allotments, originally provided for the poor of the parish, and you will find more than a few wealthy lawyers and accountants tending their beetroot and feeding their asparagus.
Perhaps our relationship to vegetables is becoming closer still; that the messages of five-a-day and the joys of fresh seasonal produce, of the need to be sustainable and save a few bob in tough economic times are inspiring a more intimate bond.
From what I have seen at the RHS Chelsea Flower Show this week, Britain is being invited to give cabbages and King Edwards the same respect and regard in the garden as roses and chrysanthemums. And quite right too.