Unions meet ministers on public sector pensions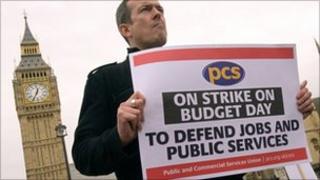 Union leaders have held talks at the Cabinet Office over public sector pensions.
Meanwhile civil servants in the PCS union have started voting on whether to take strike action over government spending cuts.
The talks come amid the threat of industrial unrest over plans to cut jobs, freeze pay and reduce pensions.
PCS leader Mark Serwotka has warned more than 750,000 workers could join a 24-hour joint-union walkout on 30 June.
The Public and Commercial Services (PCS) union is balloting 250,000 civil servants.
Any PCS action could lead to co-ordinated walkouts with teachers, lecturers and other workers.
Mr Serwotka said: "Our members know that everything they have ever worked for is now under threat, and they are voting to say there is an alternative worth fighting for."
He said more investment in the economy and cracking down on those who "dodge paying billions of pounds in taxes" would mean there was no need to cut public spending.
Union officials said talks with the government were reaching a crucial stage, with an announcement on public sector pensions expected next month.
The annual conference of the Communication Workers Union unanimously backed calls for the TUC to co-ordinate a nationwide walkout.
Delegates at the Bournemouth conference also agreed to moves aimed at co-ordinating campaigns and strikes with other unions.
Leaders of the University and College Union have warned of strikes, while both the National Union of Teachers and the Association of Teachers and Lecturers began balloting members for strikes last week.
If the motion is passed, action is likely to affect millions of children at virtually every school in England and Wales.