Newspaper review: Focus on Obama visit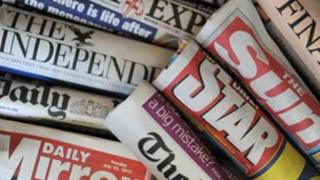 President Barack Obama's state visit is the cue for much reflection on the state of the UK-US relationship.
The Daily Mirror cites the president's banquet speech and says we are the "best of buddies" while the Daily Telegraph highlights a reassurance that past differences have been forgotten.
The Times looks ahead and says the president "will hail a new dawn for the West" in his address to MPs and peers.
The front of the Daily Mail,Daily Express and Guardian all feature a picture of Michelle Obama with the Duchess of Cambridge.
Untold story
The main story in the Daily Telegraph is a call by the former Tory cabinet minister Lord Wakeham for an urgent change in the law to limit the powers of judges to issue privacy injunctions.
Meanwhile, the Independent's main story is devoted to what it calls the "untold story of gagging orders".
The paper says there are no definitive figures for the number of rulings.
The Daily Mail suggests it is time the government follows the US example on freedom of speech rights.
'Almighty dust-up'
The Daily Express and Daily Mail both say holidaying families could yet be affected by the airline disruption caused by the erupting Icelandic volcano.
Both papers report on a forecast which suggests the ash cloud could return.
The Express has some sympathy for the frustration of Ryanair over groundings but says the Civil Aviation Authority is well placed to decide on safety.
The Sun speaks of an "almighty dust-up" as Ryanair's Michael O'Leary accused the Met Office of "nonsensical forecasts".
Talking dogs
News that Marmite has fallen victim to a Danish law banning foods with added vitamins is covered by the Guardian. on its front page and in its G2 supplement.
Other papers carry news of a book by a Cardiff University academic that claims the Nazis attempted to train dogs to talk and read to help win World War II.
The Times said the secret army of dogs "educated" at a centre near Hanover may have been the "most bizarre" example of the Nazis search for a secret weapon.
The Daily Mirror says the aim was for them to use their paws to tap signals.