A new bond between David Cameron and Barack Obama?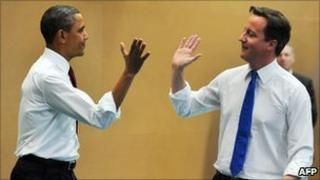 Macmillan Kennedy. Thatcher Reagan. Blair Bush. Few ever expected the names Cameron and Obama to be added to that list of close trans-Atlantic partnerships.
After all, what could possibly connect a privileged Tory who went to public school with a Democrat who rose to power from the mean streets of Chicago?
Yet some will now claim that there is a new bond between the two men.
They will point to the image of the prime minister and the president high-fiving after a game of table tennis.
They will highlight their insistence that, despite their political differences, they see "eye-to-eye" and will point to their joint declaration of the need to spread democracy and human rights in the Middle East and North Africa.
Yet it all looked so very different just a few weeks ago.
The prime minister could scarcely conceal his frustration at the president's silence when protests first erupted in Libya.
Ministers complained about the private indecision in the White House and public opposition from the American military - as the US defence secretary condemned "loose talk" about military action.
Test to come
Now in London, they hope that Barack Obama has made his choice - that he does now see the need to prove that Gaddafi cannot be allowed to defy the world.
They note, however, that the president sees Libya as first and foremost Europe's war to fight and win.
One minister told me that the Americans are now "pretty reliable partners". But he then added, "from the back seat".
Even though the US military has increased its support for British and French strike aircraft in recent weeks - offering more surveillance and more refuelling aircraft - Britain is unnerved by Obama's decision to keep a low profile.
The worries are not all one way though.
David Cameron's talk of beginning to withdraw British troops from Afghanistan this year and to complete it by 2015 produced some nervous calls from the Pentagon, I'm told.
America's military leaders fear that the British may convince others with troops still on the ground in Afghanistan to start talking of withdrawal and that will only add pressure on the occupant of the White House.
So, words of reassurance will no doubt be uttered by both men today.
After all, they've dubbed their relationship "essential" and not just special. It's the language not of emotion or romance or history but of calculation and practicality.
The test will come - of course - not in the words they use nor the high fives they offer, but the support they give when - if - the going gets tough in Libya or Afghanistan.