Injunctions doubt as footballer Ryan Giggs named by MP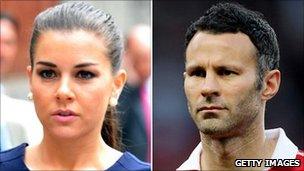 The future use of injunctions could be in doubt after the naming in Parliament of a footballer who tried to use one to hide an alleged affair.
Lib Dem MP John Hemming named Manchester United star Ryan Giggs in a Commons question on privacy orders.
The prime minister has called for a review into the use of injunctions, calling it "unsustainable".
BBC legal affairs correspondent Clive Coleman said the system was now looking "weak and fractured".
Using parliamentary privilege to break the court order, Mr Hemming said it would not be practical to imprison the 75,000 Twitter users who had named the player.
The High Court rejected two attempts on Monday to overturn the ban, the first after a Scottish paper named the footballer on Sunday, and the second after Mr Hemming's action.
Media lawyers think it is likely that the publishers of the Sun newspaper will try to get it lifted again on Tuesday.
The player obtained the order against ex-Big Brother contestant Imogen Thomas, who is a former Miss Wales, and the Sun.
The footballer's lawyers have also obtained a High Court order asking Twitter to reveal details of users who had revealed his identity after thousands named him.
The Attorney General Dominic Grieve has updated the Cabinet following the announcement of joint committee of peers and MPs to investigate the use of privacy orders.
The Prime Minister's official spokesman said David Cameron had described what was happening as unsustainable, with privacy law evolving through judgements and information circulating on the internet.
He said the committee had been established at it was a complicated issue and required serious thought.
Our correspondent said if no solution could be found there could be a stream of cases going to the European Court of Human Rights complaining that the government had failed to protect their right to privacy.
Conservative MP John Whittingdale who will chair the committee on privacy, said ministers needed to act quickly.
"The internet is already distributing names of people who have injunctions on a daily basis. The law is clearly not working. And that's not a situation we can allowed to continue for long," he said.
Parliamentary privilege protects MPs and peers from prosecution for statements made in the House of Commons or House of Lords.
Addressing MPs on Monday, Mr Hemming said: "Mr Speaker, with about 75,000 people having named Ryan Giggs it is obviously impracticable to imprison them all."
House of Commons speaker John Bercow interrupted the MP saying: "Let me just say to the honourable gentleman, I know he's already done it, but occasions such as this are occasions for raising the issues of principle involved, not seeking to flout for whatever purpose."
John Hemming later told the BBC why he had named Mr Giggs.
"Basically when he... showed that he was going to go after relatively normal people and try and prosecute them, for gossiping about him on a matter of trivia, I think he has to be held to account for that," he said.
The Deputy Prime Minister, Nick Clegg, expressed disapproval of Mr Hemming during Deputy Prime Minister's questions in the House of Commons on Tuesday.
"I don't think anyone should be above the rule of law and if we don't like the law in this place then we should act as legislators to change the law, not flout it," he said.
Liberal Democrat peer Lord Carlile said some Twitter users "can and possibly should" be brought before the court for contempt, if they're found to have breached the gagging order.
Publicist Max Clifford, who is representing Miss Thomas, said the irony was if Giggs had not taken out a super-injunction, the alleged affair would probably not have become public.
"It's only because of that, and of course the fact that, in that super-injunction that he got to protect his privacy and that of his family, he named Imogen, that the whole thing started down that trail that led to it coming out in Parliament," he told ITV's Daybreak.