Phone hacking: Prescott wins High Court bid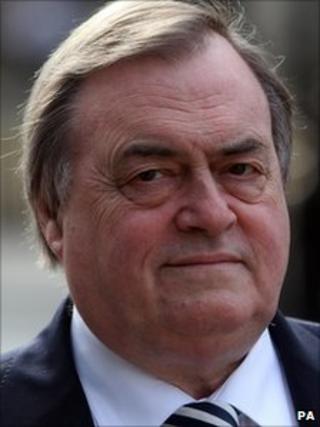 Four men who believe the News of the World hacked their phones have won their latest bid to mount legal action over police handling of the case.
They are former Deputy Prime Minister Lord Prescott, Labour MP Chris Bryant, ex-Scotland Yard boss Brian Paddick and journalist Brendan Montague.
The men, who believe their human rights were breached, have been seeking a judicial review at the High Court.
Judge Mr Justice Foskett ruled their cases could now go to a full hearing.
He said Lord Prescott, Mr Bryant and Scotland Yard's former deputy assistant commissioner Mr Paddick each had "an arguable case for seeking the relief claimed by way of judicial review".
He added that he was not "truly persuaded" Mr Montague had such an arguable claim but he would allow it to proceed with the others.
Lord Prescott and the others taking legal action had a previous application for judicial review rejected in February.
Reacting to the latest developments, Lord Prescott said he welcomed the decision and looked forward to receiving "full and proper explanations".
'Incompetence'
He told BBC Radio 4's World At One: "What is necessary is that judges have to make the judgement where there are disputes; that's what parliament asked them to do.
"So today, what the judge has done, to be fair, has reversed the decision of the previous judge who said we couldn't have a judicial hearing into the inadequacies and the incompetence of the Metropolitan Police, who deliberately withheld information from it."
Mr Bryant said people following the case would be asking why police limited their investigation in 2006 "to just a very few cases".
He said the public would also want to know why officers "point blank refused" to inform all potential victims and pursue every piece of evidence.
"Imagine that this was about elderly people living in their homes who were subject to fraudsters in their community who decided to listen to their mobile phone messages to find out when they were going to be at home or not," he said.
"If the police had found criminality in relation to three or four houses, you would think that they would want to notify all the other potential victims so that they could protect themselves.
"And that's exactly what we believe should have happened in 2006, and in addition if they'd investigated all the paperwork that they had, including the material in relation to me and many, many others, then they would probably have found far more criminal activity than thus far has ever got to court."
Mr Paddick said the reason police did not follow up all their leads could have been down to a lack of resources or a desire to safeguard their reputation and keep positive stories in the media.
But he added: "It could be that individual officers were too close to senior people at the newspapers."
At proceedings earlier this month, Hugh Tomlinson QC, who represents the four men, said their application concerned the "lawfulness" of the way the Metropolitan Police dealt with the case in 2006 "when police officers became aware of what was going on".
He said they were seeking declarations in relation to claims that the police "failed to inform them they were victims".
He also claimed police failed to respond adequately to their requests for information and failed to carry out an effective investigation at the time.
The Met Police are re-examining the entire case dating back to 2006, when the News of the World's former royal editor, Clive Goodman, and private investigator Glenn Mulcaire were jailed for hacking into the mobile phone voicemails of royal aides.
Since then, a series of inquiries and legal cases have been exploring just how widespread the practice was.
More and more celebrities and public figures have alleged their phones have been hacked and some have launched legal actions against the paper or the police for allegedly failing to investigate.
News International has said it will co-operate fully with the Metropolitan Police inquiry.