Newspaper review: Injunction cases still top news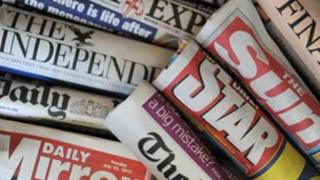 The row over injunctions is the lead for the Times, the Independent, the Mail and the Sun.
The Times says the name of the footballer at the centre of a privacy case featured in up to one tweet every five seconds on Twitter.
The Sun reports that thousands of fans chanted his name at a football match - making his identity Britain's worst-kept secret.
The Mail asks: Does anyone still not know who they are all talking about? It describes the backlash against the court orders as the biggest act of civil disobedience in modern times.
The Independent uses copious amounts of red ink to blank out names that it cannot print. "The law is a farce", its headline says.
Elderly care cost
The Telegraph reports Britain faces one of the largest bills for elderly care among industrialised nations.
It says Britain will spend an extra £80bn each year on pensions, long-term care and the health service.
The Guardian reports that ministers want to scrap restrictions on the expansion of popular state schools, allowing them to take more pupils.
The move would increase the financial pressures on weaker schools because funding is determined by pupil numbers.
Meat link to cancer
The Express highlights fresh research suggesting that red meat can significantly increase the risk of developing bowel cancer.
The paper reports on recommendations of weekly red meat intake.
Designs for the Chelsea Flower Show dividing critics more than ever before, the Telegraph says.
Traditionalists have complained the show has become more about design and construction than the art of growing plants.
The Guardian reports that the National Grid is launching a competition to find a new design for electricity pylons.
Ministers hope a design could defuse public anger at more pylons needed from nuclear power stations and windfarms.