Rise in mental health cases among armed forces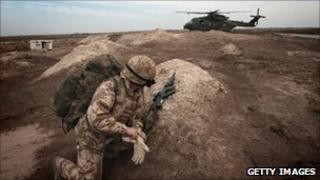 Almost 4,000 servicemen and women - or 2% of the armed forces - were diagnosed with mental health disorders last year, the Ministry of Defence says.
The rise from 3,103 cases in 2009 to 3,942 new cases recorded in the annual mental health summary was down to more people coming forward, the MoD said.
Last year saw 249 post-traumatic stress disorder cases after men and women had been in Afghanistan and Iraq.
The most likely to suffer were women, the young and those in lower ranks.
Women were more than twice as likely to suffer mental health problems than men and officers were half as likely to suffer than other ranks, the report suggested.
And the age group most susceptible was 20 to 24-year-olds.
The report showed 2,533 cases in the Army, 965 in the RAF, 366 in the Royal Navy and 58 in the Royal Marines.
Overall there were 293 alcohol-related cases and 835 cases of depression.
Figures also showed that 30 service personnel had to be evacuated from Afghanistan with psychiatric problems.
Commander's responsibility
An MoD spokesman said the mental health of the armed forces was a top priority.
"We recognise that the stigma associated with mental health disorders can be a huge barrier to personnel coming forward for treatment and addressing it is every commander's responsibility.
"The data we have does suggest that more Armed Forces personnel are coming forward, which is vital so that diagnosis and treatment can be performed by fully trained and accredited mental health personnel," he said.
He pointed out there had also been a change in the way figures were collated.