Ireland 'will remember Queen's symbolic visit'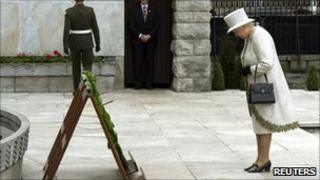 This visit will stand alongside any that the Queen has made during her reign in terms of its significance.
In word and deed she has made a difference. She has said and done things in the past four days which have impressed all but the most extreme Irish republicans, whilst at the same time retaining the dignity of her position as Britain's head of state.
Ireland has waited so long for this visit. By any logical measure, it is nothing less than absurd that it has not been possible, until now, for Britain's Queen to visit the territory of Britain's closest neighbour.
But that is to ignore what the Queen described as the "complexity" of our history, the terrible burden left by centuries of turbulence and bloodshed.
Those memories neither can nor should ever be erased, but the worst of the poison can be drawn from them, and that is what has surely happened this week.
Buckingham Palace and the British government clearly felt that the Queen needed to make a very obvious declaration that Ireland's struggle to break free from the British crown had been legitimate and - more than that - that there were aspects of British rule in Ireland that had been wrong.
Rich in symbolism
And so, within little more than three hours of stepping onto Irish soil for the first time, the Queen was attending a ceremony at the Garden of Remembrance in Dublin. This is where all those who gave their lives in the struggle for Irish independence in 1921 are honoured.
To put that in purely factual but starker terms, this is where men and women who belonged to groups like the Fenian Brotherhood and the old IRA, who took up arms and waged an armed struggle against Britain, are remembered.
And yet there was Queen Elizabeth of Britain stepping forward to lay a wreath in their memory.
More than that, when she stepped back she bowed her head in a mark of respect.
It was that bow of the head that will be remembered in Ireland. It was a bow of the head from the grand-daughter of the last King of Ireland which said that Britain fully accepts your country's right to freedom, and respects those who set out to achieve it.
The following day was almost as rich in its symbolism.
The Queen and Ireland's President, Mary McAleese, went together to the War Memorial Gardens in Dublin to right another wrong. This time it was the failure of an independent Ireland properly to recognise the sacrifice of those Irishmen who'd stood alongside Britain and the western allies in World War I.
Nearly 50,000 Irishmen died in that conflict, yet their homeland was embarrassed by their sacrifice. Comrades who had survived the Western Front found that they were ostracised when they returned to Ireland.
Side by side, the Queen of Britain and the President of Ireland laid their wreaths in memory of the sacrifice of Irishmen, not just in World War I, but also in World War II when, much to Britain's then disgust, the then Irish Free State had remained neutral.
But there were still words which needed to be said. And on Wednesday evening, at a state dinner at Dublin Castle - once been the seat of British rule in Ireland - the Queen addressed herself to the past.
It was a speech to which much thought had been given. It began with another small but memorable touch, a greeting from the Queen in Irish. It produced a response from the Irish president in colloquial English. "Wow" she said, three times.
But it was what followed that really mattered. The Queen was never going to spell out the word "sorry" - but she came as close to it as she could, and perhaps closer than she has in any previous speech on a State Visit to a foreign country.
"To all those who have suffered as a consequence of our troubled past I extend my sincere thoughts and deep sympathy," she said.
"With the benefit of historical hindsight we can all see things which we would wish had been done differently or not at all."
Those words were received with considerable gratitude in Ireland. Coming as they did from a long-lived and respected British monarch, and conveyed with the authority of the British Crown, they represented a sensitive but dignified acceptance of past wrongs.
Ireland will remember this visit. Much of it has been symbolic, but it has been symbolism which has captured deeper truths about the past and the present.
As the Queen said at Dublin Castle, the history of our islands has experienced more than its share of heartache and loss.
That history was added to this week. And for once it was for the better.