Police chiefs' body Acpo 'may go bust' as funds dry up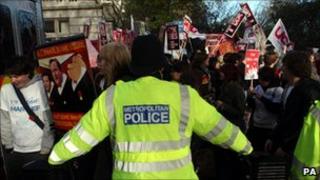 The Association of Chief Police Officers (Acpo) is in danger of going bust, the BBC has learned.
The organisation, which issues national policing policy and guidance for the UK except Scotland, will run out of money next February without extra funding.
A limited company, Acpo is half-funded by the Home Office and half by 44 police authorities.
Acpo said it had "clear support" from the Home Office and was in talks with the department about future funding.
Acpo represents the views of 334 senior police officers from England, Wales and Northern Ireland.
A source told the BBC that a third of authorities had refused to pay this year and another third were undecided.
The Association of Police Authorities (APA) said the withdrawal of funding by police authorities was partly due to a squeeze on their income.
But it may also stem from anger at Acpo's stance on elected police commissioners, who will replace police authorities if the proposal is approved by Parliament, BBC correspondent Danny Shaw says.
Elections for the first commissioners, with the power to hire and fire chief constables, are planned for May 2012.
Undermine democracy
Acpo president Sir Hugh Orde has previously warned that police chiefs might quit over the plans for elected commissioners.
Speaking to the BBC in 2009 he said any suggestion that the police could come under "political influence" could undermine democracy.
Acpo is currently working with the Home Office on a protocol setting out how commissioners should work with their chief constables.
Last year Acpo - which employs 25 members of staff - received core funding of £829,510 from police authorities and £823,688 from the Home Office.
In addition it was granted funding for specific projects - £2m for tackling domestic extremism and £100,000 administration costs for its "crime business area".
A spokeswoman for Acpo said: "Almost all national coordination for policing is achieved by bringing together chief officers to agree guidance, best practice and national standards in support of the policing service delivered through 44 forces.
"That is why chief officers volunteer their time 'on top of the day job' through Acpo.
"The home secretary has been very clear about her support for a body to provide professional leadership for policing and we remain in dialogue with the Home Office about future funding."
A Home Office spokesman said: "The government is clear that, over the next year, Acpo will play a key role in the new policing landscape advising the government, police and crime commissioners and the police service on strategy and best practice.
"The Home Office is working with Acpo on its in-year funding situation, and will work with the Association to ensure that it provides the best possible value for money for taxpayers."
The APA said whether each police authority funded Acpo, and by how much, was for each individual authority to decide.
A spokesman said: "We understand that in the context of an extremely difficult financial settlement, just a small minority of authorities have decided not to continue funding the Acpo central secretariat, whilst maintaining support for Acpo's essential national role and policing functions."