Oil spill exercise: UK tests offshore response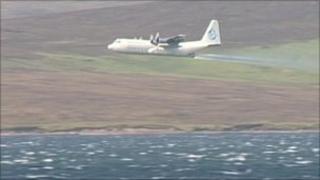 More than 100 people have taken part in an oil spill exercise off Shetland, one of the biggest of its kind in the UK.
It followed concerns raised by the Gulf of Mexico spill in April 2010, when a blast at the Deepwater Horizon rig caused a massive oil leak.
Exercise Sula tested how authorities would react to and deal with a major deep water spill in the UK.
It was led by the Maritime and Coastguard Agency and the Department of Energy and Climate Change.
The clean-up exercise west of Shetland was hampered by rough seas and strong winds gusting up to 50mph.
Greenpeace protest
Only one of several booms - used to contain spills - was deployed in the simulation, while a Hercules plane was also used to break up the oil.
Last year, the UK government set up a planning group for the exercise, involving the emergency services, government agencies, the local authority and the oil industry.
US oil giant Chevron, which is drilling for oil in the area, agreed to join the simulation before its staff were targeted by environmental protesters from Greenpeace last September.
The campaigners attached themselves to the Stena Carron, a drilling ship off Shetland operated by Stena Drilling and on contract to Chevron.
They then attached a survival pod to the ship in a stunt aimed at highlighting the dangers of deep water drilling.
Exercise Sula director Murray Milligan said: "The UK's offshore safety and environmental regulatory regime is one of the most robust in the world and the industry's record is strong.
"Nevertheless, it's right that we continue to test our response capability.
"Exercise Sula will test the participants' response to an unfolding scenario, involving the uncontrolled release of hydrocarbons into the sea from a deep water well operated by Chevron Upstream Europe at the Cambo well site, 86 miles west of Shetland.
"This exercise will give the UK an opportunity to assess its response capability to a release from a wellhead 1,000m below the surface.
"Because the exercise scenario involves the weather and tides forcing the oil to land onshore, we'll also have the opportunity to test a shoreline response in Shetland."
Eleven people were killed in the Deepwater Horizon rig explosion last year, and in the months that followed more than 200 million gallons (780 million litres) of oil flowed into the Gulf of Mexico from the well.
It polluted hundreds of miles of coastline and became the worst US oil spill in recent history.