David Cameron 'raises concerns' with Bahrain prince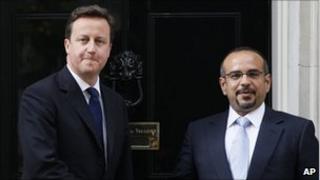 Prime Minister David Cameron has "raised concerns" about the political situation in Bahrain during a meeting with the country's crown prince.
Mr Cameron has faced criticism for welcoming the prince at a time when his regime has been heavily criticised for its response to pro-democracy protests.
Troops were called in from Saudi Arabia to suppress the demonstrations and at least 29 people have died.
Number 10 said the PM urged the prince to embrace "reform not repression".
Following the uprisings in Tunisia and Egypt, there were protests in Bahrain demanding greater freedom and rights, with some calling for the overthrow of the monarchy.
Bahrain's government was widely condemned for imposing a state of martial law and inviting troops from neighbouring Saudi Arabia to help put down protests against the ruling al-Khalifa dynasty.
Hundreds of people have been arrested and put on trial in special courts.
'Torture'
Downing Street said Mr Cameron and Sheikh Salman bin Hamad al-Khalifa's discussed both Bahrain and the rest of the Middle East at their meeting on Thursday.
Afterwards, a spokesman said: "The prime minister raised concerns about the situation in Bahrain and stressed the importance of the government moving to a policy of reform rather than repression. That all sides should address their grievances through genuine and constructive dialogue.
"The prime minister emphasised his support for the crown prince's long-standing work to achieve political and economic progress in Bahrain, and said that Britain would back efforts to normalise the situation and return Bahrain to a credible long-term process of reform."
Challenged earlier about why Britain was welcoming the crown prince when it was taking part in the Nato-led military action in Libya, the spokesman said "the situation in different countries is different".
Nato air strikes are being carried out under a UN mandate to protect civilians from the forces of Libyan leader Col Gaddafi, who is trying to crush an uprising against his rule.
But former foreign office minister Denis MacShane accused Mr Cameron of "rolling out the red carpet for Bahrain's torturer-in-chief at Downing Street".
He said: "We have well-documented reports of torture, including the torture of women doctors, killings, and even the Saudis sending tanks across to Bahrain to crush the protests in the time-honoured fashion of the Soviets in Prague or Budapest."
Amnesty International UK director Kate Allen said: "David Cameron should use this opportunity to make it absolutely clear that the Bahraini government must end its relentless crackdown on human rights."
"It's vital that the government doesn't overlook human rights abuse in Bahrain in any kind of effort to smooth the way to arms sales or trade more generally."
Human rights campaigner Peter Tatchell said it was "a huge error of judgement" on the part of Mr Cameron to invite the crown prince to No 10.
He added: "Britain should not be conducting business as usual with a tyranny that is guilty of gross human rights abuses."