Rogue Afghan police killer 'could have been shot dead'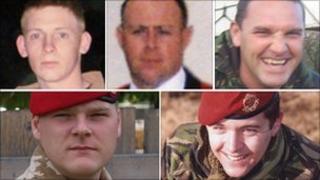 An Afghan policeman who shot dead five British soldiers could have been killed minutes later, an inquest has heard.
The gunman, who has been named only as Gulbuddin, fled a checkpoint in Helmand province's Nad Ali region in November 2009.
Checkpoint Blue 25 then came under fire from two men, one of whom might have been Gulbuddin, and British troops returned fire.
Gulbuddin's body was not recovered and he has never been brought to justice.
The inquest has heard the attack could have been linked to a "blood feud" between an Afghan National Police commander and the Taliban.
Three of the soldiers killed were Grenadier Guards - Warrant Officer Class 1 Darren Chant, 40, Sergeant Matthew Telford, 37 and Guardsman Jimmy Major, 18.
The other two killed were Royal Military Police - Corporal Steven Boote, 22 and Corporal Nicholas Webster-Smith, 24.
Mystery
Six British soldiers and two Afghan policemen were wounded in the attack.
Guardsman Paul Steane said Gulbuddin had been wearing a blue Arabic robe, known as a dishdash, and in the exchange of fire he saw a man wearing similar clothing fall to the ground having been shot by a guardsman with a machine gun.
"I looked down there and I am sure that the one in blue dropped and fell to the ground and the one in white ran off," the soldier told the hearing in Trowbridge, Wiltshire.
Asked if Gulbuddin was the second man, Guardsman Steane, who serves with 1st Battalion Grenadier Guards, said: "It is possible but I am not 100% sure."
The inquest heard no body was recovered from the field but it was possible the insurgents had removed it.